Dawn, the town folk
formed a human chain
from the old building, past Bridwell's,
down Main, and right up the steps
of the new library.

They passed books, laughing
about the fund-raising
chocolate turtles and sudsy cars.

By afternoon, they spoke of aching 
backs and steaming tubs,

by evening Lotshaw's Liniment.

By midnight books made a silent journey
from swollen fingers to puffy palms --

Dickinson, Whitman, Robinson, and Frost
turning cartwheels under the stars. 
© by Dave Henson.
Used with the author's permission.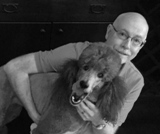 David Henson is the author of two chapbooks -- Wedging Oaks Into Acorns (Uzzano Press) and This Artificial Heart and Other Poems (The Grassfield Press) -- and his work has appeared in various online and print journals. Besides writing, his other main hobby is playing classical and boogie woogie piano. David, who lived in Brussels, Belgium for six years in the late '80s/early '90s, now lives in Peoria, Illinois with his wife and their dog, who loves to take them for walks in the woods.
David:
Thanks to you all for your nice comments. They're much appreciated. Dave
Posted 04/10/2017 08:50 AM
barbsteff:
Very clever. I've heard of communities doing these kinds of library movings. Well described process.
Posted 04/09/2017 01:09 PM
KevinArnold:
What fun! 'cartwheels' is so unexpected and wonderful. And David is a poodle guy! Must be a perfect gentleman.
Posted 04/09/2017 10:25 AM
cork:
I loved the "chocolate turtles" and "sudsy cars."
Posted 04/09/2017 09:36 AM
Larry Schug:
Great final couplet! What an image you've planted in my head, David.
Posted 04/09/2017 08:48 AM
Sarah Russell:
A bucket brigade of books! Only in small town America. Made me smile this morning. Thanks!
Posted 04/09/2017 08:34 AM
rhonasheridan:
I can see it all happening! Lovely.
Posted 04/09/2017 03:12 AM