In the store it catches his eye.
The boy asks, "What's that?"
I answer: "Pocket pie."
"A what?"
"A pie that fits in your pocket. Want one?"
Of course.
Back home, parked, we stay in the front seat
of the truck. The boy turns the radio on.
Age two and a half, he chooses rock.
I drink a beer. He bites crust, apple goo.
Saturday afternoon, April,
sweet as pie.
© by Joe Cottonwood.
Used here with the author's permission.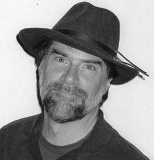 Joe Cottonwood has worked in the building trades for most of his life: carpenter, plumber, electrician. He's also worked as a writer throughout his life, publishing, as he puts it, "a bunch of books, but never hitting it big." Originally from Maryland, with a definite bias toward things Appalachian, Joe eventually moved west to La Honda, California, where he built a house under redwoods on a mountainside, raised a family, and remains there today, still living with the same woman for half a century and playing with the grandkids. Learn more about him at www.joecottonwood.com.
Michael:
Dear Joe--lovely moment. Just right to brighten the day for YDP poets and readers. Thank you.
Posted 04/14/2017 12:00 PM
JanetruthMartin:
love the poem and the photo you shared, Jayne:) I've never had a pocket-pie. Never heard of them! I'll have to see if we sell them in Canada.
Posted 04/14/2017 10:13 AM
cork:
My favorite was cherry and sometimes I would get a seed.
Posted 04/14/2017 09:00 AM
Sarah Russell:
Put a smile on my face this morning. Love this poem!
Posted 04/14/2017 08:37 AM
Larry Schug:
A nice image planted in my head this morning, poetically well said. thanks.
Posted 04/14/2017 08:20 AM
rhonasheridan:
A sweet little poem. You get a wonderful image of the gooey apple pie! Loved the photo,
Posted 04/14/2017 04:09 AM