You won't remember it—the apple orchard
We wandered through one April afternoon,
Climbing the hill behind the empty farm.

A city boy, I'd never seen a grove
Burst in full flower or breathed the bittersweet
Perfume of blossoms mingled with the dust.

A quarter mile of trees in fragrant rows
Arching above us. We walked the aisle,
Alone in spring's ephemeral cathedral.

We had the luck, if you can call it that,
Of having been in love but never lovers—
The bright flame burning, fed by pure desire.

Nothing consumed, such secrets brought to light!
There was a moment when I stood behind you,
Reached out to spin you toward me . . . but I stopped.

What more could I have wanted from that day?
Everything, of course. Perhaps that was the point—
To learn that what we will not grasp is lost.

From Pity the Beautiful (Graywolf Press, 2012).
Used with the author's permission.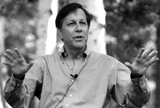 Dana Gioia is Poet Laureate of California. An internationally recognized poet and critic, he is the author of five collections of poetry, including Interrogations at Noon (2001), which won the American Book Award, and 99 Poems: New & Selected (2016). Dana's critical collections include Can Poetry Matter? (1992), which was a finalist for the National Book Critics Award. He has written three opera libretti and edited twenty literary anthologies. Dana served as Chairman of the National Endowment for the Arts from 2003 to 2009 and has been awarded 11 honorary doctorates. Judge Widney Professor of Poetry and Public Culture at the University of Southern California, where he teaches each fall semester, Dana divides his time between Los Angeles and Sonoma County, California. Learn more about him at http://danagioia.com/.
blueskies:
A tender celebration of love on a spring day in an apple orchard. Very special poem. Thanks,Dana.
Posted 04/20/2017 05:54 PM
Michael:
Thank you Dan, a message so nicely conveyed. It causes me to ponder about important things I did not grasp!
Posted 04/20/2017 10:17 AM
Sarah Russell:
A perfect bittersweet moment.
Posted 04/20/2017 09:48 AM
Glen Sorestad:
A gorgeous poem!
Posted 04/20/2017 09:47 AM
Larry Schug:
If only we knew this in those irretrievable moments. These words are a poetic reminder to realize the importance of being present in the present.
Posted 04/20/2017 08:17 AM
paradea:
Carpe diem...or the moment!! This is beautiful.
Posted 04/20/2017 07:47 AM
Katrina:
I like this wistful poem with its incredulous detachment and insatiable desire.
Posted 04/20/2017 03:27 AM