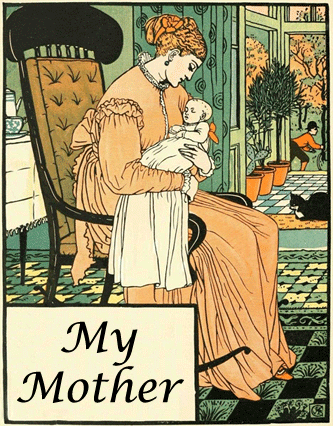 Who fed me from her gentle breast,
And hush'd me in her arms to rest,
And on my cheek sweet kisses prest?
My Mother.
When sleep forsook my open eye,
Who was it sung sweet hushaby,
And rock'd me that I should not cry?
My Mother.
Who sat and watched my infant head,
When sleeping in my cradle bed,
And tears of sweet affection shed?
My Mother.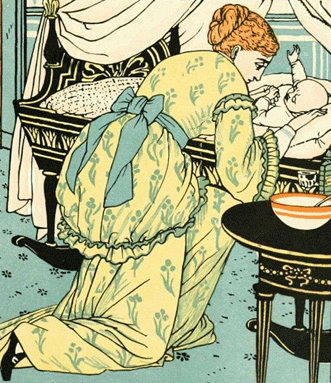 When pain and sickness made me cry,
Who gazed upon my heavy eye,
And wept for fear that I should die?
My Mother.
Who dress'd my doll in clothes so gay,
And taught me pretty how to play.
And minded all I had to say?
My Mother.
Who taught my infant lips to pray,
And love God's holy book and day.
And walk in Wisdom's pleasant way?
My Mother.
And can I ever cease to be
Affectionate and kind to thee,
Who was so very kind to me?
My Mother.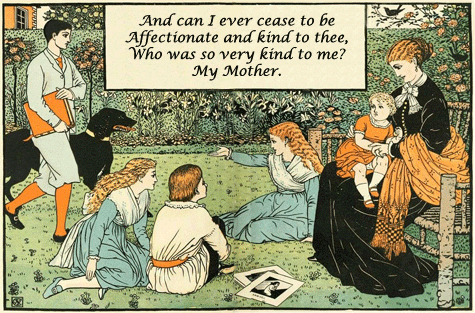 Ah, no! the thought I cannot bear;
And if God please my life to spare,
I hope I shall reward thy care,
My Mother.
Who ran to help me when I fell,
And would some pretty story tell,
Or kiss the place to make it well?
My Mother.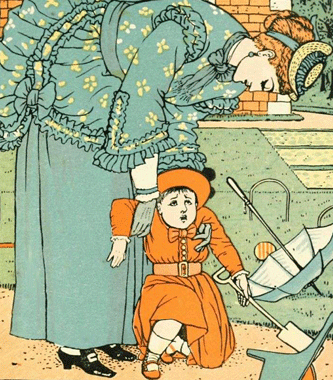 When thou art feeble, old, and gray,
My healthy arm shall be thy stay,
And I will soothe thy pains away,
My Mother.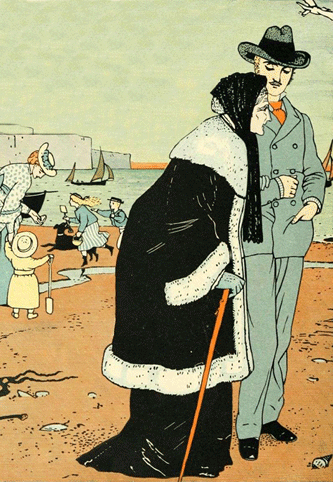 And when I see thee hang thy head,
'Twill be my turn to watch thy bed.
And tears of sweet affection shed,
My Mother.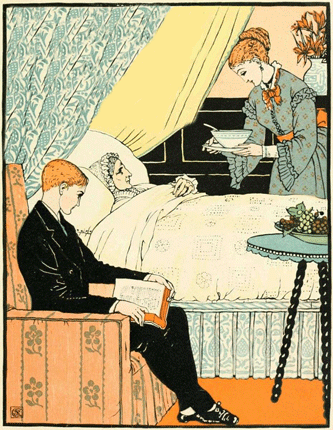 For could our Father in the skies
Look down with pleased or loving eyes,
If ever I could dare despise
My Mother.
This poem is in the public domain.
Illustrations by Walter Crane (1845 - 1915),
an English artist and children's book illustrator.
Ann Taylor (1783 –1866) was a poet and literary critic. Born in England to a successful and well-educated family, she and her sister Jane, who is best known for the classic children's verse, "Twinkle, Twinkle, Little Star," wrote a number of children's books. Ann also wrote a number of hymns. A devoted advocate of animal welfare, Ann also took an active interest in social issues. Widowed in her late sixties, she wrote prolifically and traveled extensively until her death.
Mutterseelenallein:
How beautiful! I remember writing this poem out in full for my Mum when I was young as it expressed all I felt for her. She sadly died on Wednesday 12th July and I couldn't be with her as she lived thousands of miles away from us in Canada. I regret that we were not able to care for her in her old age - it would have been a privilege. I'm weeping now as I would like to put my arms around her but I know she is safe in Jehovah's memory and I am hoping to see her again in the resurrection.
Posted 07/15/2023 06:12 AM
dorad8929@gmail.com:
This poem reminds me always of my beloved, sweet, gentle and ever caring Mama who has gone home to glory in heaven four years ago. I miss you so much Mom. I love you, Mama. Keep resting in Christ's bosom. Thanks so much Ann Taylor for this beautiful poem about Mothers. God bless you and bless all mothers dead or alive, Amen
Posted 07/06/2023 03:56 AM
Ann:
I didn't learn this poem in School I grew up to sing this song from a portrait we had on the wall of our living room. My elder brother who could read then would recite the verses and I would chorus, "my mother." She's gone for 5years now, but memories of my infancy, are evergreen in my heart.This poem is sacred and transcends time. I admire you Ann Taylor.God bless your soul...
Posted 06/02/2023 05:58 AM
Mikebolarinwa:
Such a powerful poetic rendition. I dont remember all the stanzas off-hand but stanza 3 stick to my memory like a glue. My mother went to be with Lord just when I least expected. Its shocking! Its demoralizing and her demise left un-fillable vacuum. May God bless all mothers and the family of the author.
Posted 05/27/2023 04:11 AM
Maknits:
Maknits: Although too sacharine and idealized, this poem exemplifies how I feel about my Mom. We may have had some disagreements as in most families, but underneath, I deeply loved her, acknowledge all she did for me, and cared for her at the end of her life. As I near age 86, I sense that my grown children, whom I love dearly, have similar thoughts about me, thank God.
Posted 05/08/2023 03:03 PM
Pauljoy:
I memorized this poem since Class 6 (Grade 6), and have never forgotten it. Our teacher made ut demonstrate it in classes; using the girls as our mothers. It was a solemn moment when we acted on each verse. It's the only poem I still know and can recite. Thanks to Ann Taylor for putting these words. (Rev. Paul Bala Samura)
Posted 05/08/2023 12:00 PM
MamaShyne:
Yes, My Mother, And No Other One. God Bless You Maa Wherever You're, You're Always In My Thoughts. I Love You. Helena Boafo
Posted 04/27/2023 06:59 PM
MamaShyne:
Yes, My Mother, And No Other One. God Bless You Maa Wherever You're, You're Always In My Thoughts. I Love You. Helena Boafo
Posted 04/27/2023 06:58 PM
MamaShyne:
Yes, My Mother, And No Other One. God Bless You Maa Wherever You're, You're Always In My Thoughts. I Love You. MamaShyne
Posted 04/27/2023 06:56 PM
SurveyorE:
The poem is a vow, an everlasting vow a child should make and fulfilled unto his ot her mother and father. The content of the poem has been and still is my vow to my now aged parents. I sing always and it always bring me to tears. May God bless Ann Taylor; may bless Mothers.
Posted 04/10/2023 09:23 PM
Abiola:
I'll always love you mummy. I fear that you're growing older but I pray God keeps you to eat the fruit of your labour. Iya mi ni wura mi
Posted 03/16/2023 10:05 AM
EmeraldLidipe:
My mother it 5 years today.Death snatched you away When not prepared Iya Baale. We love you Wura mi
Posted 02/26/2023 08:03 PM
Smartronie:
When thoy art feeble,old and grey my heathy hands shall be thy stay,Wurami I love and miss you so much,I wished you would be stayed longer to enjoy ur labour but I knew and you know I did my best maami,I miss you each passing day I love you mama😭😭😭😭
Posted 01/16/2023 04:46 PM
Wastagram:
Ah, no! the thought I cannot bear; And if God please my life to spare, I hope I shall reward thy care, We luvs ur buh God luvs u more 😢
Posted 01/03/2023 04:29 AM
Salauadedeji:
AAh, no! the thought I cannot bear; And if God please my life to spare, I hope I shall reward thy care, My Mother....I pray to Almighty God to make my mother live longer to reap what she sow. I love you mummy
Posted 12/24/2022 05:07 AM
Klein:
I miss you so much mom
Posted 11/21/2022 12:24 PM
Alkairm:
I sang this song along like a kid🥺🥺🥺🥺🥺
Posted 11/12/2022 03:26 PM
Muffin:
And can I ever cease to be Affectionate and kind to thee, Who was so very kind to me? My mother... I love you wholly mom
Posted 10/10/2022 12:05 AM
Muffin:
And can I ever cease to be Affectionate and kind to thee, Who was so very kind to me? My mother... I love you wholly mom
Posted 10/09/2022 11:58 PM
Kristyfash:
I wish I could return the care but you left so early 😭 I will for ever miss you wurami
Posted 09/30/2022 08:17 PM
Queenie:
I hope i could return thy care but so heartbroken she is late
Posted 06/05/2022 08:50 AM
Queenie:
I hope i could return thy care but so heartbroken she is late
Posted 06/05/2022 08:50 AM
Queenie:
I hope i could return thy care but so heartbroken she is late
Posted 06/05/2022 08:48 AM
Otobong Sampson:
Miss my mum like no other
Posted 06/02/2022 10:09 AM
nkirukaiwuji@gmail.com:
I hope I shall return thy care... I love you so much mum💞
Posted 05/28/2022 06:37 PM
nkirukaiwuji@gmail.com:
I hope I shall return thy care... I love you so much mum.
Posted 05/28/2022 06:36 PM
Hormotope:
I really love singing this rhyme🤩 Can't love u less mom👱🥰😍
Posted 05/04/2022 08:37 AM
Adeloverboy101:
Whenever I came across this poem on my PC I always feel Sad 😢 and that always be the end of that Day cause I lost my mom @the Age of 9 and lil bro was just 6 then 😭 But now thanking God for life
Posted 04/26/2022 03:27 AM
Kewulere:
Today and every blessed day is my gold's birthday, I use this opportunity to congratulate my golden, precious and a rare gem, happy birthday. I pray you live long and eat what you have suffered for. I love you my heaven and earth
Posted 02/01/2022 10:34 PM
Joeonbet:
This poem reminds me all the sacrifices of my young beautiful mother who passed away too early. Mummy, your children are forever grateful to you. Keep resting 💔
Posted 12/21/2021 04:32 AM
Passoverpeace:
Lovely song of motherly treasure
Posted 07/24/2021 07:10 AM
EdBliz:
EdBLIZ - A mother that also became a father figure to me when that young man rejected us. I call her my superwoman. KUWO EDET OKOI I love you so much, you are the best on mother Earth...
Posted 06/16/2021 03:48 AM
Mathias:
I want to use this medium to celebrate her birthday. A mother like no other. Shout out to you my great defender MRS. MARGARET UJEYAH
Posted 06/09/2021 05:14 AM
Mathias:
The love for my mother grows each time I thought of this poem because she exhibit every characters in it. I wish I could choose who my mother will be in my next life if at all there is, I wouldn't mind to choose her all over again. I love you Mom.
Posted 06/09/2021 05:11 AM
Gersone Jebakumar. S.J:
I am really Loved very much this beautiful & Loved Poem... My Mother Poem is Great.... My Child wood 7th Grade poem.... Loved it... Thanks... S.J.Gersone Jebakumar, Chennai, TamilNadu, India...
Posted 05/09/2021 07:14 AM
Madhu:
My mother is a great poem. I had read the Kannada (a South Indian language) version of it when I had just started going to school. Of course, at that time I had no idea about the original.
Posted 05/08/2021 04:54 AM
Mcgregor1*:
I don't know what made my remember this poem this 12th day of April, 2021. Thanks to the writer of so lovely a poem L
Posted 04/12/2021 08:55 AM
Laura:
I love you thats all I can cos my heart melts reading my favorite poem and its today I got to know who wrote it may your soul Rest In Peace ❤️🙏
Posted 02/20/2021 04:17 PM
Ojo Gbamila Hannah:
I so much love the poem. Missing my Mum so much. I love u Mummy
Posted 09/23/2020 06:35 PM
Navneet Saroha:
https://thepocketfullofwords.com/moms-always-right/
Posted 06/10/2020 08:19 AM
Phemmy:
I so much adore this poem. I will teach it to my wife then she will sing it for my child everyday.
Posted 04/16/2020 10:51 AM
Fanenharden:
Words can't say all my heart contain towards you mum, and I am only blessed to have you as a mother. I pray I don't comeshort in anyway you expect from me. ...my mother.
Posted 04/16/2020 04:12 AM
ishimaiter@gmail.com:
I dedicate this poem to my world best mum,God bless you immensely on my behalf,u re a true definition of love ❤️
Posted 04/06/2020 01:02 AM
Pjprosper:
Wow my mom is simply the best! What could I have done without you in my trailing times. I Love you mom & you shall live long on earth to reap the goodies of ur son. I swear I shall reward the care. . . .My mother!!!
Posted 03/17/2020 09:34 AM
Judith:
Beautiful poem...I love you mom,may God continue to bless you for everything you do for I and my siblings and to the love of my life I love you so much...thanks for making me read this lovely poem tonight
Posted 02/15/2020 07:33 PM
Prince ikpesu :
Growing up, we always Sang this, but years have passed by and I am just getting to understand the words and its true meaning. I and my wife would sing this every night before going to bed 💝💖💞. I must confess that I love the poem even more now.
Posted 02/15/2020 07:24 PM
Augustina:
I love this so much, gonna sing for my boy everyday
Posted 12/30/2019 02:35 PM
Hadeborller Gold:
Wonderful tribute oh my God i love the poem
Posted 10/27/2019 05:46 PM
Michael:
Wonderful tribute, Jayne, both in image and in word. Michael Escoubas
Posted 05/14/2017 08:07 PM
barbsteff:
The illustrations fit exactly with the diction of the day. Even though the language is old-fashioned, to me, the sentiment is true, sometihing I don't often find in older poems.
Posted 05/14/2017 05:16 PM
KevinArnold:
Yes, perfect for today, especially with the illustrations.
Posted 05/14/2017 09:53 AM
JanetruthMartin:
thank-you Jayne! this is so perfect for today!
Posted 05/14/2017 08:22 AM
Larry Schug:
I miss you, Mom. Can you hear me read this poem to you? Thank you, Jayne.
Posted 05/14/2017 07:33 AM
Katrina:
Thank you, Jayne, for interspersing the pictures so beautifully.
Posted 05/14/2017 06:36 AM