Seneca County, New York
As if summoned forth to haunt
the acres and trick my eyes
snow-blind, they hide in plain sight,
stock-still in a drift.
Beneath the coarse surface
a chord stirs,
recessive pairs go back
to unearthing
a patch of horse-mint,
grazing in a neat cross-cut the wild
randomness of this place
where winter is the first to arrive
and the last to leave.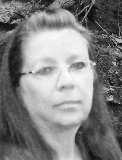 Georganna Millman lives in the Catskill Mountains of upstate New York with her husband Marty. The mother of two grown sons, Georganna owns an independent retail pharmacy and is a grantwriter for the Woodstock Poetry Society & Festival. Her award-winning poetry has appeared in many national and regional publications and her chapbook, Formulary, won the Astounding Beauty Ruffian Press Poetry Award in 2008. Her most recent book, Set Theory, is part of the New Women's Voices Series from Finishing Line Press. Learn more about Georganna at www.GeorgannaMillman.com.
AllegraSilberstein:
Beautiful poem...reminds me of childhood days in Wisconsin...Allegra
Posted 01/31/2015 04:44 PM
paradea:
Beautiful poem.
Posted 01/31/2015 01:25 PM
Dorcas:
What a lovely way to live through the season.
Posted 01/31/2015 10:18 AM
Sherry:
Love this poem, Georganna! Thanks also for mentioning Astounding Beauty Ruffian Press. I love that book, too, and it can be purchased at ABRPbooks at Etsy!!!
Posted 01/31/2015 08:23 AM