In the swash zone
a desperate crab somehow overturned,
belly-up. Dome-backed, helpless,
she twitches feet and claws
grasping only air
as seagulls gather, smacking lips.

Shall I intervene?
Who do I favor, crab or gull?
Frankly I have problems with both personalities.

Can't ignore a creature in distress.
(Who programmed that?)
Wiggle my toes into damp sand beneath the beast.
Flip.
With nary an acknowledgement, crab scuttles
sideways to a spot in the wave wash
where in a flutter of little legs she half-buries herself,
eyeballs above.
Seagulls scream curses.

What did I expect, a thank you?
© by Joe Cottonwood.
Used here with the author's permission.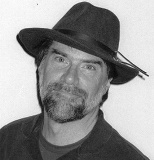 Joe Cottonwood has worked in the building trades for most of his life: carpenter, plumber, electrician. He's also worked as a writer throughout his life, publishing, as he puts it, "a bunch of books, but never hitting it big." Originally from Maryland, with a definite bias toward things Appalachian, Joe eventually moved west to La Honda, California, where he built a house under redwoods on a mountainside, raised a family, and remains there today, still living with the same woman for half a century and playing with the grandkids. Learn more about him at www.joecottonwood.com.
blueskies:
Nailed it! A universal human question. Especially so the power of the last line. Good grasp. Many thanks, Joe.
Posted 05/26/2017 05:14 PM
transitions:
Glad you helped...loved the poem too
Posted 05/26/2017 01:31 PM
barbsteff:
Good job! But it reflects the truism that everything exists to be eaten by something else!
Posted 05/26/2017 01:05 PM
KevinArnold:
For me, this poem comes alive with the line ly I "Frankly I have problems with both personalities." because it reveals the complexity of the narration.
Posted 05/26/2017 09:18 AM
David:
Very nice blend of humor, nature, and a little philosophy.
Posted 05/26/2017 09:12 AM
Larry Schug:
I'd automatically help the crab, too. But thanks for expanding my thinking a bit by showing us another perspective. Well said.
Posted 05/26/2017 08:18 AM
Katrina:
I have seen a gang of seagulls hold a fox paralysed, as they swooped systematically in pairs from all four corners of a city square. But I love seagulls!
Posted 05/26/2017 07:18 AM