Like two cathedral towers these stately pines
Uplift their fretted summits tipped with cones;
The arch beneath them is not built with stones,
Not Art but Nature traced these lovely lines,
And carved this graceful arabesque of vines;
No organ but the wind here sighs and moans,
No sepulchre conceals a martyr's bones.
No marble bishop on his tomb reclines.
Enter! the pavement, carpeted with leaves,
Gives back a softened echo to thy tread!
Listen! the choir is singing; all the birds,
In leafy galleries beneath the eaves,
Are singing! listen, ere the sound be fled,
And learn there may be worship without words.

This poem is in the public domain.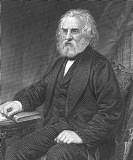 Most experts would agree that Henry Wadsworth Longfellow was the most popular American poet of the nineteenth century. A family man who suffered much tragedy in his personal life, Longfellow was the first of a group of writers known as the "Fireside Poets," called such for their popularity with families all over the country who gathered by the fire in the evenings to read the work of these poets aloud. Longfellow published poetry over a forty year period, and enjoyed public adulation in line with that of rock stars and celebrities today.
Jean :D:
Since our mother instilled in us the love of poetry, writing many herself, I am so happy that you, Jayne, are back with us. This is such a lovely poem & it fits so well with the Centering Prayer group I belong too. Thank you! Jean :D
Posted 04/04/2018 05:45 PM
dnbarmstrong@gmail.com:
Wonderful writing on this snowy day, yes, the last line says so much.
Posted 04/03/2018 12:49 PM