What is so moving when we hear of a journey
where someone makes history's mark
that we repeat over centuries,
remember and teach our children?

Is it a swelling in our chests
as we take it as our own
as if they were family,
distant kin of note?

Or do we cry for the adventurer,
child we were with toy sword
or trusty mop-head horse or
nurses cap with rolled bandages.

Longing now to make our mark
to create a memorable story
or be a memorable storyteller
to carry us beyond our time.

We pray our time here
weighs in as a life worth living,
noteworthy enough to be passed on
at least to those who are dear.

Whether the place in space
be large enough for a book
or simply tucked inside a heart,
grateful to have taken this journey.
© by Linda Golden.
Used with the author's permission.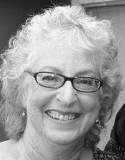 Linda Golden listened to other people's stories for most of her life. As a psychoanalyst, she listened with intensity as others told their tales. Now retired, she has published a book, The Being in Humans, and is exploring creative writing and painting with watercolor with great enthusiasm. Brooklyn born, Linda considers herself almost a native Californian. She lives in Woodland Hills with her husband, Mike, and their dog, Katy, in a rambling multi-generational home.
Jgenovagoldstein:
Thank you for this. At my mother's wake (she was 92, and had lived a hero's life), a friend asked me what had been my ambitions when I was a child. Had I known of this poem , I would have shared it with him.
Posted 04/05/2018 04:58 PM
Jo:
Reading your poem was such a joy, and I especially liked "we pray our time here weighs in as a life worth living..." Thank you Jayne for posting Linda's poem. " simply tucked inside a heart" is wonderful too.
Posted 04/05/2018 02:36 PM
michael escoubas:
Well done Linda, Your theme is timely in an age where true heroes are at a premium. Thank you.
Posted 04/05/2018 12:53 PM