My bike commute -  
Descents and climbs
Like most days
And
Occasionally
Something else
A sharp awareness
Light, wind, clouds, rain
Blackberry, tall grass
Wild anise, a sparrow
Movement blends
External and Internal
A gentle
Drift
Friend, if I could tell it
In a word
It would be
Peace
I wish the same for you
© by David M. Tookey.
Used here with the author's permission.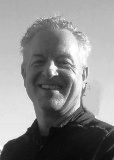 David M. Tookey lives in Seattle, Washington, where he is an elementary school teacher. A bicycle is his main mode of transport around town; David says he finds he can tinker with poems in his head as he rides. He also enjoys baking bread, and is currently exploring college campuses with his daughter to help her determine which she might want to attend.
laurasalas:
I felt that moment of peace as I read this. Thank you:>)
Posted 04/16/2018 03:37 PM
tonyray:
Tony Raiola Straightforward, compact and inspirational in the very best sense, i.e., no pretense.
Posted 04/14/2018 05:44 PM
Katrina:
What a relief to leave all those autos out.
Posted 04/14/2018 01:14 PM
barbsteff:
This poem celebrates a poet paying attention - the job we all are called to. Great!
Posted 04/14/2018 12:13 PM
michael escoubas:
Dear David-- your poem reminds me that poetry is everywhere, but awareness is essential. Also, I like the unassuming simplicity of your work.
Posted 04/14/2018 08:12 AM