In a synchronized voice,
she says my cloud
has been compromised

and asks for my password
and access to my Mac
to fix the problem.

I walk out into the sunshine
and inspect a white fluffy
cloud floating overhead

in a sky bright as blueberries
and pick my Mac
dangling from a branch,

wash its rosy and green skin,
bite into its crisp white flesh
and savor its sweetness,

tartness and spiciness
as apple juice dribbles
down my chin.

Confident that my world
has not been compromised,
I hang up the phone.

© 2018 by Sharon Waller Knutson.
Used with the author's permission.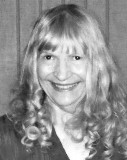 Sharon Waller Knutson lives in a house her husband, Albert, built out of clay from the land on a dirt road in the middle of the wildlife habitat and open range of the Arizona desert. A retired journalist, she writes poetry for readers who don't normally read poetry. In 2014, Sharon sold her chapbook, My Grandmother Smokes Chesterfields, to winter visitors from all over the world in a café where her husband played guitar and sang country music. Her customers told her they expected her to publish a new poetry book when they returned each year so, in 2015, she published Desert Directions, about her life in the desert. In 2016, she published They Affectionately Call Her a Dinosaur, poems about her customers and other seniors in her life who started new careers, businesses, and relationships after they retired. And in 2017, Sharon published I Did it Anyway, poems about how she broke the glass ceiling in the newspaper business in the '60s and '70s, when women were typically relegated to the society pages. This year, Albert retired from playing music so Sharon now operates her bookselling operation online.
Sharon Waller Knutson:
Thanks for the wonderful comments. Like Cork said I heard the voice so many times and wondered what she was blathering about. The only clouds I heard about were in the sky and the only Mac I owned grew on a tree. So instead of reporting the scam, I wrote a poem.
Posted 06/01/2018 05:01 PM
Lori Levy:
Great poem and glad YDP is up and running again!
Posted 06/01/2018 03:47 PM
Jane Eva Cooper:
Oh thank you, thank you. I've had a grin all day knowing poems will be popping into my in-box again. A perfect one for this new beginning.
Posted 06/01/2018 03:37 PM
antoinette:
I love this one. The craziness of these modern time (machines etc.) and the calmness of nature. Sharon, this really hit the spot.
Posted 06/01/2018 01:53 PM
joecot:
Now I'm wondering... How does one compromise with a cloud? Is it a negotiation? Anyway, nice poem!
Posted 06/01/2018 01:33 PM
lafayette:
Excellent! It kept my attention right to the beginning of the verse.
Posted 06/01/2018 12:41 PM
wendy morton:
Eat that apple. Delicious!!
Posted 06/01/2018 11:41 AM
DavidTookey:
Love this poem and so glad YDP is back!
Posted 06/01/2018 10:23 AM
RetiredLinda:
I love that ! And, I'm so happy to read a poem with my morning coffee again. Thanks, Jayne.
Posted 06/01/2018 09:42 AM
peninsulapoet:
Lovely to wake up to this poem. Welcome back!
Posted 06/01/2018 09:37 AM
Jancan:
Reading this poem was a very nice way to start the day! Thanks, Sharon. Janice
Posted 06/01/2018 09:34 AM
cork:
Sharon, I love your opening line. I have heard that voice so often.
Posted 06/01/2018 09:28 AM
Wilda Morris:
A good poem for a poetry reboot! Thank you, Jayne. Thank you, Sharon.
Posted 06/01/2018 09:17 AM
michael escoubas:
Wonderful poem Sharon, so appropriate for the times in which we live!
Posted 06/01/2018 07:22 AM
Phyllis Beckman:
Jayne's back, a Mac is once again an apple, my world is not compromised, and Sharon kicks off the season with Molly's call. Amused, reassured, and confident in this promising June day, I bow to poem lovers as we resume this early morning ritual. Phyllis Beckman
Posted 06/01/2018 06:12 AM