Few suspect my double life, 'twould make a dandy thriller.
My poker face does not reflect the fact that I'm a killer.
I'm not your average murderess -- deceptive nomenclature.
My victims are botanical. (They're of a plant-like nature.)

My methods are diversified but always I'm discreet.
I subtly assassinate each struggling sprout I meet.
Drowning often does them in but then sometimes it's drought.
Frequently it's too much shade that snuffs their young lives out.

Begonias are my favorite prey. They never live to tell.
Impatiens die before their time. I guess it's just as well.
So never leave your plants with me - this message I implore --
Or else your healthy Wandering Jew won't wander any more.

© by Lois Corcoran.
This poem won the 2015 Reader's Digest poetry contest.
Used here with the authorís permission.
†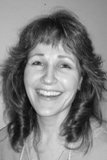 Lois Corcoran wrote dozens of awful poems before turning her proverbial pen toward humor.† Her column appears in Great Lakes area newspapers, and she's a regular contributor to†Practical Homeschooling†magazine.† She and her dysfunctional (but happy!) family live in Upstate Michigan.
†
Antoinette:
This is a fun one. Thanks for the smile it left on my face.
Posted 07/04/2018 08:06 AM
cork:
Who murdered my single asparagus spear?
Posted 06/10/2018 09:39 AM
Jancan:
Great--funny and well-written, a poem that resonates with me! Janice
Posted 06/10/2018 09:34 AM
paradea:
I love this poem! Wonderful piece in rhythm and rhyme!!
Posted 06/10/2018 09:20 AM
Jean Colonomos-1:
Jean I too am a plant asassin.
Posted 06/10/2018 08:52 AM
Katrina:
Fascinating to learn the meaning of 'impatiens'. I share the profound sense of guilt, when trying to train my grape vine, with every tendril that snaps.
Posted 06/10/2018 07:39 AM
Contents of this web site and all original text and images therein are copyright © by Your Daily Poem. All rights reserved.
As an Amazon Associate I earn from qualifying purchases. Purchasing books through any poet's Amazon links helps to support Your Daily Poem.
The material on this site may not be copied, reproduced, downloaded, distributed, transmitted, stored, altered, adapted,
or otherwise used in any way without the express written permission of the owner.