Cloudless blue heavens
Sunshine spilling like butter
Over fresh sweet corn


© 2018 by Merle Hazard.
Used with the author's permission.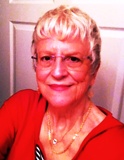 Merle Hazard lives in Macon, Georgia. Her poems have appeared in a number of secular and inspirational publications. A home health and hospice nurse for many years, she worked as a director of programs as well as at bedsides. Now retired, Merle enjoys reading, walking, playing bridge, feeding the birds, her garden, and spending time with friends and family--including her two sons and six grandchildren.
Antoinette:
This is a piece of sunshine.
Posted 07/04/2018 07:38 AM
ghctenmile@earthlink.net:
Nice job! "Sunshine spilling like butter..." Thanks for this, Merle (and Jayne). ghc
Posted 06/27/2018 05:14 PM
Lori Levy:
I agree with your introduction to this poem, Jayne!
Posted 06/26/2018 06:26 PM
barbsteff:
Wonderful to read your delightful haiku here, Merle! Barb Germiat
Posted 06/26/2018 01:02 PM
Sharon Waller Knutson:
Perfect Haiku. Beautiful unique nature images. I love it.
Posted 06/26/2018 12:05 PM
Jancan:
LOVE it! Janice
Posted 06/26/2018 10:56 AM
cork:
I can taste the sunshine!
Posted 06/26/2018 09:02 AM
vortex:
Lovely!!!
Posted 06/26/2018 08:41 AM
Charly:
A bit tipsy I see.....lol.,
Posted 06/26/2018 08:02 AM