Outside the garden, the newspaper lands
on the driveway each morning, bringing terrible words;
misogyny, fascist, fraud.

Inside the garden,
we speak another language.
We say esmeralda, brunia, arugula, cylindra;
we say† bordeaux, bolero, fiesta.
We speak in flowers:
we say alstromeria;
we say sweet juliet, wildeve.
We say tango.
Bees hear us,
dance.
†
©†by Wendy Morton.
Used with the authorís permission.
Photo by Wendy Morton.
†
†
†
†
†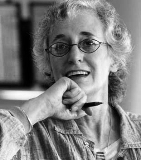 Wendy Morton, a retired insurance investigator, is the author of six books of poetry, a memoir--Six Impossible Things Before Breakfast--in which her adventures as a corporate sponsored poet are revealed, and a set of poetry postcards. Founder of Canada's Random Acts of Poetry project, she received a Meritorious Service Medal for her work with The Elder Project. Wendy lives in Sooke, British Columbia.

Antoinette:
Wonderful.
Posted 07/04/2018 07:36 AM
transitions:
So Original....I loved it too, sent to gardening friends :)
Posted 06/30/2018 11:59 PM
Lori Levy:
"We speak in flowers." Love that!
Posted 06/29/2018 12:03 AM
DavidTookey:
Wonderful poem. Well done. Made me smile!
Posted 06/28/2018 05:22 PM
barbsteff:
Well, some of you say all those flowery words! Clever poem.
Posted 06/28/2018 03:49 PM
Mary Lou Taylor:
This poem made me dance.
Posted 06/28/2018 03:33 PM
michael escoubas:
Love Wendy's vibrant, stimulating languaage. Well done! And yes, we DO need medicine against the daily "thrum" of headline news.
Posted 06/28/2018 11:46 AM
cork:
A beautiful contrast of two languages.
Posted 06/28/2018 09:07 AM
Charly:
Just perfect, lovely words for this time of disrespect most everywhere. Thank you!
Posted 06/28/2018 08:32 AM