do not recognize
     transgression: they
          brush away latch and lock,
 
     cage and palisade—
kindle and re-kindle in
     willow and oak—bright-needle
 
the dusk drape that separates
     neighbor from neighbor. They
          capture children's somersaults
 
     lighting up the lawn,
the ardent lovers' flicker
     within the arbored porch,
 
the glimmer of the friend who
     at the last clasps your hand.
          Releasing the air, fireflies
 
     glide, everywhere winking
a refusal to be quenched,
     a ribbon work of night-lights
 
that threads the orchard fence—
     gleams among apple leaf
          and plum, weds intermingled
 
     blades of weed and seedy grass—
calling us to leave the locked
     boxes we would build of town
 
and nation—inviting us
     to wonder at semaphores
          of fire that summon beyond
 
     bar, beyond boundary
or bolt—that wrap us equal
     in gilt-threaded scarves of dark,
 
calling always to rejoice—
     to abandon division—
         to enter together   
 
the heaven of this earth.


This poem first appeared in Comstock Review (2008).
Used here with the author's permission.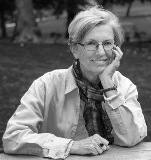 Judith H. Montgomery lives in Bend, Oregon, in the High Desert, where she writes poetry, teaches the occasional poetry workshop, and--whenever she can spare time from chasing deer away from her geraniums--figures out how poems work on her head and heart. The first Poet-in-Residence at Central Oregon Community College, Judith received the 2000 Oregon Book Award for Poetry for her first collection, Passion, and a subsequent collection, Fire (2007) was a finalist for the Finishing Line Poetry Prize. Her newest collection, Litany for Wound and Bloom, is scheduled for release this summer from Uttered Chaos Press.
Antoinette:
You have gone where I would never think to go about fireflies. So thoughtful and well done.
Posted 07/04/2018 07:35 AM
michael escoubas:
Judith, thank you for this reminder that if we look for slices of Heaven here on earth, chances are good that we will find one!
Posted 07/01/2018 08:50 PM
Jo:
One of the most creative and enchanting poems I've read about fireflies. The images, so fresh. I'll be buying your books.
Posted 07/01/2018 03:49 PM
Lori Levy:
Beautiful images!
Posted 07/01/2018 01:43 PM
wendy morton:
A gilt threaded poem!
Posted 07/01/2018 12:10 PM
mjorlock:
wonderful word-play and imagery!
Posted 07/01/2018 11:08 AM