On this noisy crowded Fourth of July
I pull-away from the beach
and head toward the cove,
my kayak slowly gliding
through the water.
Splashes and screeches
slowly dissolve
into the softness of silence.
I lean back,
gaze at the brilliant blue sky
full of huge drifting cumulus puffs,
then rhythmically rock my paddle
from side to side,
as I pull it through reflections
of wavy white, azure, and grey
In the distance,
I notice the scraggly green top
of a tall underwater plant,
and wonder if it longs to be a lilly.
Water-bugs are plugging away,
skittering all around me,
dragging rippling V's behind them.
The glistening surface
full of small swells and troughs
is grabbing the sunlight
with its minuscule mirrors
and shiny shadows
of amber, brown, white
pale and dark blue,
olive, chartreuse.
Just as I start to understand
how the impressionists
saw the spectrum broken apart
into colorful patches and dots,
a humble black and white dragonfly lands on the bow of my boat.
The shimmering simplicity
of its translucent beauty,
a perfect contrast
to its flashy rainbow-winged cousins,
swiftly swirling and swooping,
dipping their heads,
while skimming the surface for food,
and if I listen very carefully
I can sometimes hear
the delicate buzz-flapping whizz
of their wings
against the background hum
of blending chirps clicks clacks
taps and tweets,

I look beneath it all
into a swaying liquid meadow
of gold and emerald,
full of slippery mud-colored minnows
darting this way and that.

Immersed in serenity,
I gently place my paddle
across the hull,
close my eyes,
slowly inhale
the pine-tinged freshwater scent.

Dangling my fingers
in the cool and wet,
I meditate
to a mantra of thank-yous
for the granting of a wish
never made.
© by Joan Kantor.
Used here with the author's permission.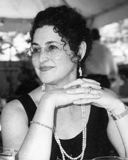 Joan Kantor lives with her husband in Collinsville, Connecticut. A college counselor and learning disabilities specialist for many years, Joan also has training in education and marriage and family therapy. Active in a number of poetry outreach efforts, she is a member of the International Academy for Poetry Therapy and collaborates with both visual artists and musicians in Stringing Words Together, an interactive program of poetry and violin music. Her chapbook, Too Close For Comfort, will be published by Aldrich Press later this year. Learn more about Joan at www.joankantorpoetry.com.
Jo:
Joan, I have always liked your poetry, and this one is no exception. It is exactly what is needed--the beauty and healing effects of nature on the human spirit. It gave me space to reflect and be silent, to listen and open my eyes. Thank you so much.
Posted 07/04/2018 09:16 PM
Lori Levy:
So soothing and peaceful!
Posted 07/04/2018 07:19 PM
michael escoubas:
WOW, Joan, this is way better than fireworks! Thank you.
Posted 07/04/2018 12:43 PM
Ginny C.:
Beautiful details in this poem. I am usually at a lake on the 4th, but not this year. Thank you for carrying me away for a bit with your poem.
Posted 07/04/2018 12:12 PM
cork:
A menagerie of sensory imagery! Thanks.
Posted 07/04/2018 10:08 AM
Nana Ellen:
An unexpected gift...disguised as a poem. This poem SHINES! Thanks,Joan.
Posted 07/04/2018 09:31 AM
Jean :D:
O how I wish I were in that kayak, seeing what Joan is seeing. Never has nature been so intriguing. The quiet of the "cruise" is wonderful. I love the image of water-bugs dragging the rippling water v's behind them. Lovely!
Posted 07/04/2018 08:54 AM
Larry Schug:
"the granting of a wish never made" Wow! A very insightful line of thought, a revelation.
Posted 07/04/2018 08:33 AM
plgoodman:
Joan I love your gentle and meditative poem. So perfect as an antidote for today's chaos. I too have a book coming out ( next year) by Kelsay Books) so we are distant kin. Let me know of your book's publication. I'd love to purchase one. Your poem is close to my heart.
Posted 07/04/2018 08:28 AM
Antoinette:
I want to be there! No barking dogs at 6 a.m. No car horns honking, just quiet. Well done.
Posted 07/04/2018 07:29 AM
Zannalyn:
Yes, what a beautiful poem! Thank you for sharing your experience so vividly!
Posted 07/04/2018 07:19 AM
rhonasheridan:
Thank you Joan - that is absolutely beautiful.
Posted 07/04/2018 05:12 AM