You and I
Have so much love,
That it
Burns like a fire,
In which we bake a lump of clay
Molded into a figure of you
And a figure of me.
Then we take both of them,
And break them into pieces,
And mix the pieces with water,
And mold again a figure of you,
And a figure of me.
I am in your clay.
In life we share a single quilt.
In death we will share a single coffin.
This poem is in the public domain.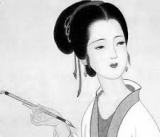 Guan Daosheng, also known as Kuan Tao-Sheng, (1262-1319) was a Chinese painter best known for her images of nature and her tendency to inscribe short poems on her paintings. Born to a prominent family, she is considered by many to be China's most famous female painter. Wife of Zhao Mengfu,a respected government official who was also a renowned painter, the story is told that when Mengfu was considering a second wife (multiple wives were not uncommon for wealthy men during that time), Guan wrote this poem. When her husband discovered it, he chose to not to take on the additional wife and remained faithful to Guan from that point on. This translation of Guan's poem is attributed to Kenneth Rexroth. Many other translations are available under a variety of titles including "A Song of You and Me" and "You and I."
yourdailypoem:
omg fabu
Posted 02/10/2015 03:48 PM
Checker:
A beautiful love poem. I've read it a few times, but nothing beats the first reading. To me, it had an element of surprise in it.
Posted 02/10/2015 02:11 PM
Dorcas:
Being in each other's clay. I will rest with that thought of my family members. I am not lonesome dweller.
Posted 02/10/2015 10:31 AM
rhonasheridan:
Initial caps?? The content was so charming I never noticed!
Posted 02/10/2015 02:15 AM
KevinArnold:
Interesting that this translation comes with initial caps. I'm not aware that there's such a convention in China. Initial caps put such pressure on the strong lines of this poem--interesting. If someone could look at the original and discuss this, I'd be most interested. Imagine, 1600 years ago. So many generations!
Posted 02/09/2015 11:32 PM