There's a spider in the bathtub. 
I saw him last night, and he's still there
this morning, though I gave him fair warning
when I brushed my teeth before bed.
I need to take a shower. 
But there's a SPIDER.
In the BATHTUB.
My Dr. Schweitzer is arguing with my Eek.
He's small –
smaller than a shirt button –
and round and 8 legs look like 3 too many. 
But he's in the BATHTUB.
Where I SHOWER.
NAKED.
I turn on the water, and he wiggles
a couple of legs but the spray doesn't hit him,
so I don't get a pass from Karma.
Then my Eek takes over,
and I get a piece of toilet paper,
and he wiggles 2 legs again but doesn't run
so my Eek doesn't get to plead self-defense.
I try to make it painless –
a squish and done – but then I wonder
if he was just trying to say hello,
and the shower's kind of lonely
without him in there waving at me.

© by Sarah Russell.
Used with the author's permission.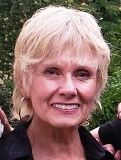 Sarah Russell lives in State College, Pennsylvania with a patient husband and a curly dog named Smudge. Her poetry has appeared in Red River Review, Misfit Magazine, Shot Glass Journal and Your Daily Poem, among others. Her first collection I Lost Summer Somewhere will be published by Kelsey Press in 2019. Learn more about Sarah at www.SarahRussellPoetry.net.
Sarah Russell:
Hey, everyone, thanks so much! Glad it resonated.
Posted 07/13/2018 12:54 PM
Mary Lou Taylor:
My husband and I spent many a time in Oregon working those spiders off the walls and out of the shower. He used the cardboard off a wire hanger. One time the spider used the inside to escape and came out on my husband's hand. From then on spiders were safe in our house. Loved this fun poem. Brought back memories.
Posted 07/09/2018 06:00 PM
michael escoubas:
Hey Sarah! I'm giving this to my wife who will be LOL--spiders are not her thing! This poem is great fun.
Posted 07/07/2018 10:58 PM
transitions:
Can identify with this. Like it!!!
Posted 07/07/2018 03:55 PM
Nana Ellen:
Great fun & unique & delightful use of my 'Eek'. Thanks, Sarah.
Posted 07/07/2018 03:01 PM
barbsteff:
Conflict between Karma and Eek very well said. We have spiders, sort of yellowy-green, who turn up in Feb., March. I think they're looking for water, I find them in sinks, even th coffee pot! I let them be unless, as here, they interfere with my needed activities.
Posted 07/07/2018 02:25 PM
Lori Levy:
Reminds me of my son who, as a teenager, was afraid of spiders, but wasn't afraid to go bungee jumping!
Posted 07/07/2018 01:44 PM
Sharon Waller Knutson:
I love Sarah Russell poems. I laughed out loud at the lines "My Dr. Schweitzer is arguing with my Eek" and " I don't get a pass from Karma." When I find a spider in the tub I usually call my husband. I am not brave enough to squish or cart them out in a cup.
Posted 07/07/2018 12:29 PM
plgoodman:
Love it too Sarah, you hit just the right note of revulsion and empathy. Good luck with your book. Kelsay is publishing my new book next year too.
Posted 07/07/2018 08:50 AM
Ryan Stone:
Love it, Sarah!
Posted 07/07/2018 08:26 AM