When Dawn strides out to wake a dewy farm
Across green fields and yellow hills of hay
The little twittering birds laugh in his way
And poise triumphant on his shining arm.
He bears a sword of flame but not to harm
The wakened life that feels his quickening sway
And barnyard voices shrilling "It is day!"
Take by his grace a new and alien charm.

But in the city, like a wounded thing
That limps to cover from the angry chase,
He steals down streets where sickly arc-lights sing,
And wanly mock his young and shameful face;
And tiny gongs with cruel fervor ring
In many a high and dreary sleeping place.

This poem is in the public domain.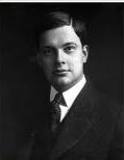 Alfred Joyce Kilmer (1886 – 1918) is best known for his poem, "Trees," but he actually produced quite a large volume of work. Had his life not ended so tragically early, many believe he would have developed into one of America's great poets. Joyce married young and fathered five children even as he was establishing himself as a teacher, writer, and lecturer. While coping with the illness of one of their children, Joyce and his wife converted from the Episcopal faith to Catholocism and he ultimately became the leading Catholic poet of his time. When World War I broke out, Joyce enlisted and had contracted to write a book about his war experiences. Unfortunatly, he was killed on a French battlefield before he ever even began the book; he was only 31 when he died. Interesting side note: Joyce's father worked for Johnson & Johnson and is credited with inventing that company's famous baby powder.
wordartdjc:
Doris As a new member, I must say that I am enjoying this experience. Thank you for your choice of poems.
Posted 07/10/2018 02:05 PM
Larry Schug:
I find it odd that Kilmer portrays Dawn as male. I think of a new day as having been given through birth. Perhaps the poem was not seen as cliche in its day, but in 2018, it strikes me as such. I hate to be so contrary to other comments, but this morning, for whatever reason, it doesn't do much for me.
Posted 07/10/2018 01:09 PM
paradea:
Love it!!!
Posted 07/10/2018 12:54 PM
michael escoubas:
This post has pricked renewed interest in reading Kilmer's poetry. Thank you, Jayne.
Posted 07/10/2018 08:25 AM
KevinArnold:
We should all thank Jayne for finding this and giving the poet his rightful due. The anthropomorphism of dawn and how he is so better welcomed in the country. What muscular verse from such a young man, which only underscores the tragedy of Joyce's early death!
Posted 07/10/2018 06:35 AM