Where have they gone, those who stirred
the pancake batter, greased the pan for
the fish fry, shucked corn-on-the-cob,
sliced fresh tomatoes?

And where is the galvanized steel tub
we kids were sluiced in, salt and sand
running off our naked bodies as we
giggled, unashamed?

Night peers through the windows here,
casting shadows on the worn countertop,
the dulled stainless double-sink, the usual
dim and messy corner.

This kitchen breathes as if a sea-wind
has entered, riding the dark, sweeping
it all away until only hungry ghosts
remain, inhaling everything.

This poem first appeared in Verse-Virtual.
Used here with the authorís permission.
†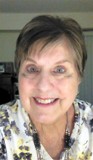 Penny Harter moved from North Jersey to the South Jersey shore area, about a half-hour inland from the Atlantic Ocean, to be closer to her grandchildren. Author of numerous books, she enjoys writing, leading two chapters of a support group for widows and widowers, and occasionally leads a poetry writing workshop or works one-on-one with online students. Learn more about Penny here.
Robert Walton:
Your images float upon a sea breeze, your last stanza especially.
Posted 07/24/2018 06:45 PM
TheSilverOne:
I lived this poem. Beautiful.
Posted 07/21/2018 03:37 PM
wordartdjc:
So filled with melancholy It almost makes one weep.
Posted 07/21/2018 10:16 AM
Jo:
Penny, I liked this poem from the first line. where have these things gone? It is like a kind of hunger just recollecting all the images. Thank you.
Posted 07/20/2018 09:29 PM
Dorothy WildhagenD:
Lovely archaic synoptic with many legacies to enhance.
Posted 07/20/2018 06:19 PM
Sharon Waller Knutson:
Penny, I love this poem from beginning to end but my favorite image is: "This kitchen breathes as if a sea-wind has entered, riding the dark, sweeping it all away until only hungry ghosts remain, inhaling everything." I often dream of being back in the homes of relatives long gone reliving fond childhood memories.
Posted 07/20/2018 02:08 PM
Lori Levy:
I like the picture this poem paints for us and the atmosphere it creates.
Posted 07/20/2018 02:00 PM
barbsteff:
the usual/dim and messy corner -- a part of every kitchen I have know. Very nice work.
Posted 07/20/2018 01:49 PM
Charly:
Just perfect!
Posted 07/20/2018 08:28 AM
Janet Leahy:
Wonderful title for those "where have they gone moments." Lovely poem, thanks Penny.
Posted 07/20/2018 08:24 AM
Larry Schug:
"A Kind of Hunger" gives me more and more with each reading. Each verse is exquisite, a poem unto itself.
Posted 07/20/2018 07:58 AM
laurasalas:
This is just so lovely. Makes me feel like I'm RIGHT there.
Posted 07/20/2018 06:35 AM