See it: it is the mark
to show you have been here,
this little dark circle
of wetness
on the glass table top
on this blazing day
just off the Champs-Elysees
when the glasses sweated

and, silly fool,
you left to find
somewhere
cooler.
______________________

Culaccino. (Italian, noun): the stain left on a table from a cold glass of water.

From Language Lessons: A Linguistic Hegira,  a forthcoming collection.
Used with the author's permission.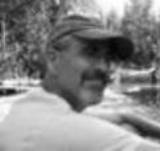 David Holper has done a little bit of everything: taxi driver, fisherman, dishwasher, bus driver, soldier, house painter, bike mechanic, bike courier, and teacher. He has published a number of stories and poems, including two collections of poetry, 64 Questions (March Street Press) and The Bridge (Clare Songbirds Publishing). David's poems have appeared in numerous literary journals and anthologies, and he has recently won several poetry competitions, in spite of his contention that he never wins anything. He teaches English at College of the Redwoods and lives in Eureka, California, far enough from the madness of civilization that he can still see the stars at night and hear the Canada geese calling.
antoinette:
Fantastic poem.
Posted 08/13/2018 01:30 PM
Lori Levy:
Great poem and great idea for a book!
Posted 08/02/2018 11:00 PM
wendy morton:
A new word, so well circled.
Posted 08/02/2018 12:15 PM
Glen Sorestad:
A very fine poem and thanks, David, for the word "Culaccino". That put a zing into my morning!
Posted 08/02/2018 11:01 AM
wordartdjc:
Loved, it, loved it! Such a novel idea and I love to hear Italian words and understand them.
Posted 08/02/2018 09:35 AM
cork:
I will now be especially alert for culaccinos under every glass.
Posted 08/02/2018 09:10 AM
Charly:
Just plain wonderful!
Posted 08/02/2018 08:45 AM
Michael:
Marvelous idea for a collection! Thank you.
Posted 08/02/2018 08:01 AM
Larry Schug:
I bet you were thrilled when the last verse emerged (out of nowhere?). I would be. Nice poem.
Posted 08/02/2018 07:41 AM