The bottle was navy-blue glass,
The cap a little gold helmet
With a point on top,
And when I removed the cap, the fragrance swirled
Into the room like smoke
In a Parisian nightclub.

I was twelve, he fourteen, and his perfume
Gift sat on my dresser for everyone to see.

After school, we doubled on his bike,
Tooling down the road past concrete sidewalks
And blue and pink flower gardens, lawns green
And trim as putt-putt courses,
His flaming red hair in front of me
Setting the world on fire.
He gave me a fake birthstone ring
And a box of chocolate-covered graham crackers
That I hid in my drawer
So only I could eat them. He was Tristan
And I Isolde.

Then, my family moved away.

Years later, I saw his photograph in the newspapers
His mother saved: he was the high school
Football jock and later still, he married, he had two children.

Today, his red hair, the bottle-green
Shirt and matching socks he wore with white jeans
And burgundy penny-loafers
Color an occasional waking dream.

I know it wasn't love, how could it have been,
But what matters is we think it is, the first time,
Boarding the airplane and taking off,
The airplane filled with passengers
And all of them headed for France.
© by Sherry Beasley.
Used with the authorís permission.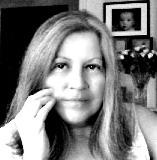 Sherry Beasley is the author of four chapbooks of poetry, The Lives of Women, Luna Violetta, The Miller's Daughter, and a collection of her award-winning poems entitled Les Fleurs. Sherry has studied at Stanford University Online Writing Studio and under the tutelage of William Harmon and the late A.R. Ammons. Currently, she lives in the piedmont of the Blue Ridge Mountains in Virginia, where she is also a jeweler whose work can be found in private collections around the world.

Dorcas:
It woke my dormancy.
Posted 02/14/2015 03:00 PM
mimi:
how well I remember mine--he was tall and black-haired and could do a fantastic imitation of Elvis!
Posted 02/13/2015 07:31 AM
jeanie:
But what matters is we think it is, ... love this.
Posted 02/13/2015 06:36 AM
Ross Kightly:
Always a passenger on the plane heading for... great stuff this!
Posted 02/13/2015 04:01 AM
Latha:
Waking dream .... Indeed! Most first loves remain that.... Perfect little poem!
Posted 02/13/2015 12:48 AM
erinsnana:
So many great images!
Posted 02/12/2015 11:54 PM
TheSilverOne:
I remember that perfume, and who doesn't remember that wonderful, painful first love? This poem says it so well.
Posted 02/12/2015 11:39 PM
jonidee61:
delightful!
Posted 02/12/2015 11:33 PM
nancilee:
His flaming red hair in front of me. Great. This poem captures the wonder of first love.
Posted 02/12/2015 11:18 PM