Over the field where the brown quails whistle,
   Over the ferns where the rabbits lie,
Floats the tremulous down of a thistle.
   Is it the soul of a butterfly?

See! how they scatter and then assemble;
   Filling the air while the blossoms fade,--
Delicate atoms, that whirl and tremble
  In the slanting sunlight that skirts the glade.

There goes the summer's inconstant lover,
   Drifting and wandering, faint and far;
Only bewailed by the upland plover,
   Watched by only the twilight star.

Come next August, when thistles blossom,
   See how each is alive with wings!
Butterflies seek their souls in its bosom,
   Changed thenceforth to immortal things.

This poem is in the public domain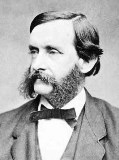 Thomas Wentworth Higginson (1823-1911) was an author, poet, editor, minister, and social reformer. Born in Massachusetts to a socially prominent family, he had four poems published by the time he was sixteen and went on to publish fiction, nonfiction, articles, essays, and more poetry. Thomas served as a colonel in the Civil War, commanding the first Union regiment of freed African American soldiers. A lifelong radical, much of his writing was in support of women's suffrage, the temperance movement, and the abolition of slavery. Higginson is better known for his association with Emily Dickinson. After receiving a letter from her in response to an article he wrote for the Atlantic Monthly, he became her friend and mentor for the remainder of her life and edited her poems for publication after her death.
Jo:
I didn't know any of this background and it is so interesting. The poem has some beautiful images. I enjoyed reading it today.
Posted 08/04/2018 06:07 PM
Lori Levy:
"thistles ... alive with wings." Beautiful!
Posted 08/04/2018 12:39 PM
Janet Leahy:
Thanks Jayne for introducing us to Thomas Wentworth Higginson. What an interesting bio! I'll look up more of his poems.
Posted 08/04/2018 10:35 AM
wordartdjc:
Yes, to all below. We lose much when we ignore the loveliness of rhyme. This is beautiful.
Posted 08/04/2018 10:34 AM
paradea:
I love this type of poem.
Posted 08/04/2018 10:10 AM
Larry Schug:
How much we have lost. If only we would take the time to see the soul in all there is. Great choice of poems.
Posted 08/04/2018 08:00 AM
KevinArnold:
Such craft and fun!
Posted 08/04/2018 06:59 AM
rhonasheridan:
This poem is a real delight.
Posted 08/04/2018 05:26 AM