You better not fool with a Bumblebee! -
Ef you don't think they can sting - you'll see!
They're lazy to look at, an' kindo' go
Buzzin' an' bummin' aroun' so slow,
An' ac' so slouchy an' all fagged out,
Danglin' their legs as they drone about
The hollyhawks 'at they can't climb in
'Ithout ist a-tumble-un out agin!
Wunst I watched one climb clean 'way
In a jim'son-blossom, I did, one day, -
An' I ist grabbed it - an' nen let go -
An' "Ooh-ooh! Honey! I told ye so!"
Says The Raggedy Man; an' he ist run
An' pullt out the stinger, an' don't laugh none,
An' says: "They has ben folks, I guess,
'At thought I wuz predjudust, more er less, -
Yit I still muntain 'at a Bumblebee
Wears out his welcome too quick fer me!"


This poem is in the public domain.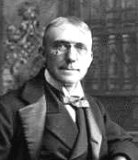 James Whitcomb Riley (1849 - 1916) was an American poet best known for his children's poems and dialect-based verses. James was born in Greenfield, Indiana, and later moved to Indianapolis; homes in both cities are preserved and open to the public today. James was hugely popular during his lifetime. A bestselling author who traveled the country speaking to sell-out crowds, he never married or had children of his own, but he loved children and they loved him back. When he died, more than 35,000 people came to pay their respects as James lay in state under the Indiana capitol dome.
Mary Lou Taylor:
I'm saving it.
Posted 08/11/2018 03:35 PM
joecot:
Long time fan of Riley here. Great poetic story-telling. Best way to appreciate Riley is to hear someone with a mastery of the dialect recite the poems aloud.
Posted 08/11/2018 01:34 PM
rhonasheridan:
What fun! I loved it
Posted 08/11/2018 05:10 AM