I grew up in a household
where everyone dreamed
in color
but only one of us was left-handed.
She became the artist.

Now there is another, a child
who frets
because he's read that
right-handed people live longer.

Don't worry, I tell him.
Look at Auntie Marilyn.
She has grown very old
even though
she's lived a reckless
left-handed life,
and creates many
beautiful things.


© by Marsha Foss.
Used with the authorís permission.
†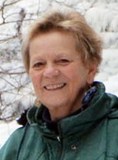 After 37 years in Maryland, Marsha Foss returned to her home state of Minnesota when grandchildren began to arrive. She now lives in St. Paul and enjoys being connected to that area's vibrant writing community.†A retired educator, Marsha has spent many happy hours each week volunteering in the neighborhood school where her grandsons attend.
antoinette:
So sweet.
Posted 08/21/2018 09:01 AM
Tabletop:
Delightful poem. My left-handed sister tells me her many frustrations. Finally she discovered a website that sells stuff like scissors for lefties. She has the worst time trying to do crafts, because very few lefties teach crafts like knitting. Trying to think backwards is terrible. I like the advice the author gave this left-hander.
Posted 08/14/2018 04:56 PM
wordartdjc:
So simple and straight to the point and yet so lovely. My sister,(deceased) was left-handed and bore thirteen children. Now that is prolific and surely an art!
Posted 08/13/2018 04:20 PM
LindaCrosfield:
Sending this one to my southpaw sister! Love it.
Posted 08/13/2018 02:49 PM
antoinette:
Enjoyed this poem, a sweet slice of life piece.
Posted 08/13/2018 01:23 PM
Lori Levy:
I also love the line "lived a reckless left-handed life." And the fact that the left-handed child, not the ones who dreamed in color, became the artist!
Posted 08/13/2018 01:12 PM
Jo:
Love the "lived a reckless left-handed life... Really enjoyed your poem.
Posted 08/13/2018 01:00 PM
Mkfoss:
Oops, sis... those were meant to be dashes, not question marks!
Posted 08/13/2018 12:06 PM
Mkfoss:
Yes, the reckless leftie is still alive and kicking, and loving my right-handed (and very talented) sister who writes beautiful poetry.
Posted 08/13/2018 12:05 PM
Glen Sorestad:
All you reckless southpaws, stand up and take a bow! Loved the poem!
Posted 08/13/2018 10:57 AM
Sharon Waller Knutson:
I loved this poem. I thought it was unique, clever and charming.
Posted 08/13/2018 10:48 AM
rhonasheridan:
Try being taught how to iron by a lefthanded 'Mother! Aioyo!
Posted 08/13/2018 08:38 AM
michael escoubas:
Totally delightful, Marsha! I love the line, "reckless/left-handed life", we right-handers should be so lucky!
Posted 08/13/2018 07:58 AM