Not a perfect specimen,
four inches long and half
as wide, flattened on one side
by its long fall to dark days
locked in driveway ice,

the pinecone, now dried and dun,
pocks my hand with hundreds
of blunt points, triangles
that whorl around its axis,
no two pressing the same spot.

It smells of dry loam and smokeó
a male perhaps, with used-up
pollen sacks, now light and papery
with parts curled back, stuck
down with hard grey sap.

The woody spiral shades from dusty
to dark brown when upended,
its scales form a nap that sends back
light along the tips or holds it
in the dark core of attachment.


© by Patrice Boyer Claeys
Used with the author's permission.
†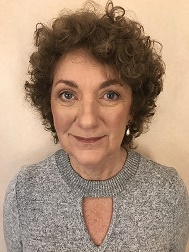 Patrice Boyer Claeys is one of five children raised in the l950s and '60s on Broadway show tunes and Pennsylvania Dutch food. She has always loved words and, after majoring in English literature, went on to work in publishing, textbook editing, and public relations. Her inner critic kept her from writing, until motherhood opened the floodgates. Over the years, Patrice's work has been published in many print and online journals. Her debut collection, Lovely Daughter of the Shattering, is due out next year from Kelsay Books. Patrice is grateful to her writing group, Plumb Line Poets, for keeping her chiseling away.
†
†
wordartdjc:
Very lyrical and lovely
Posted 10/05/2018 04:57 PM
Lori Levy:
Great language and details.
Posted 10/05/2018 03:49 PM
Familygal4:
I saw, smelled, touched, heard, almost tasted it. One tiny thing in the universe.
Posted 10/05/2018 01:56 PM
DavidTookey:
Third stanza...wonderful!
Posted 10/05/2018 11:38 AM
paradea:
Seems to be lots to read between the lines here!! Interesting.
Posted 10/05/2018 09:54 AM
Larry Schug:
Fine attention to details of an experience, right to the very end.
Posted 10/05/2018 09:44 AM