the golden hour of the clock of the year. Everything that can run
to fruit has already done so: round apples, oval plums, bottom-heavy
pears, black walnuts and hickory nuts annealed in their shells,
the woodchuck with his overcoat of fat. Flowers that were once bright
as a box of crayons are now seed heads and thistle down. All the feathery
grasses shine in the slanted light. Itís time to bring in the lawn chairs
and wind chimes, time to draw the drapes against the wind, time to hunker
down. Summerís fruits are preserved in syrup, but nothing can stopper time.
No way to seal it in wax or amber; it slides though our hands like a rope
of silk. At night, the moonís restless searchlight sweeps across the sky.


From Small Rain (Purple Flag Press, 2014).
This poem first appeared in Canary (Fall, 2011).
Used here with the authorís permission.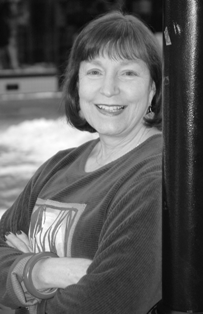 Barbara Crooker's award-winning poems have appeared in numerous magazines, journals, and anthologies and have been featured on the BBC, the ABC (Australian Broadcasting Company), The Writer's Almanac, and in the Poetry at Noon series at the Library of Congress. Recipient of many fellowships and residencies in the U.S., as well as in Ireland and France, she was also a Grammy finalist for her part in the audio version of the popular anthology, Grow Old Along with Me--the Best is Yet to Be. Barbara lives in Fogelsville, Pennsylvania; read more about her at www.barbaracrooker.com.
Lori Levy:
Beautiful imagery.
Posted 10/15/2018 12:24 AM
wordartdjc:
So thoughtful and full of wonderful description. Love it.
Posted 10/14/2018 12:09 PM
peninsulapoet:
Always a pleasure to start the day with a Barbara Crooker poem.
Posted 10/14/2018 11:02 AM
cork:
Beautiful. Our wind chimes remain in place. Summer furniture is in the garage.
Posted 10/14/2018 10:45 AM
Sharon Waller Knutson:
Barbara Crooker is one of my favorite poets. I love her unique picturesque images, humor and insight. My favorite images in this poem are: "woodchuck with his overcoat of fat" and "nothing can stopper time. No way to seal it in wax or amber; it slides though our hands like a rope of silk."
Posted 10/14/2018 10:13 AM
mjorlock:
It is always a treat to start the day with a poem by Ms. Crooker. Thanks, YDP.
Posted 10/14/2018 09:04 AM
Gilbert Allen:
I agree. A fine poem indeed.
Posted 10/14/2018 08:43 AM
paradea:
Such beautiful imagery all the way through. "moon's restless searchlight" I love. Nice poem!!
Posted 10/14/2018 08:12 AM