for E. D.

Would it seem presumptuous, perhaps impertinent,
of me to invite you for a cup of tea on a sunny Sunday
morning at a small shop on a well- trafficked street?
And, if you were to agree would you question me,
over that cup of tea, or before, as to why I wish
your company on a sunny Sunday morning?

I might answer, before that cup of tea, that your interests
interest me, and given what I see, you seem quite shy (and
I have heard this is true) and I think you might be more
inclined to reply over a cup of pekoe brew on a safe and
sunny well-trafficked street on a Sunday morning.

And, what would the object be, you might ask, of meeting
over a cup of tea and what would a pertinent question be?

The why and why not of what you know and what you do,
the who and why and what of you cannot all be explained
over a cup of tea on a sunny Sunday morning, but a small
answer, say a cupful, with one who takes pleasure in
interesting conversation with one who seems interesting
is all the question and answer needed on a sunny Sunday
morning and a cup of tea.


This poem first appeared in Birchsong Vol. II (Blueline Press).
Used herewith the author's permission.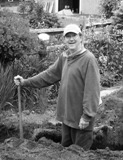 Robert Manchester lives in New Hampshire, surrounded by leafy trees, stone walls, memories of Robert Frost, and several living poetry legends. He's been writing and publishing poems for 50+ years, but quite prefers writing to submitting. Even so, his work manages to appear in print occasionally and he belongs to the John Hay Poetry Group in Newbury, New Hampshire. Though he views himself as a cynic who writes edgy poems about the "underbelly of life—the junk cars, tumbledown trailers, goat pens in the front yard, and the like—", his work is actually quite entertaining and often humorous.
Jancan:
This lovely poem sends a thought- provoking message to those who tend to over-question and rob situations of potential joy by over thinking! Janice
Posted 10/22/2018 08:44 AM
Lori Levy:
Very appealing invitation!
Posted 10/21/2018 09:24 PM
wordartdjc:
Yes, I will certainly take you 'up on it' and join you for that cup and conversation. I would be delightful.
Posted 10/21/2018 04:02 PM
cork:
What interesting conversation arises over a cup of tea!
Posted 10/21/2018 10:33 AM
CamilleBalla:
What a nice poem to read on a sunny Sunday morning! It is very inviting and quite hopeful. Well written and it makes me smile at life in this poem.
Posted 10/21/2018 09:44 AM
KevinArnold:
Shades of Prufrock: And time yet for a hundred indecisions, And for a hundred visions and revisions, Before the taking of a toast and tea. And even Marvell's coy mistress, Although this poem is interestingly genderless
Posted 10/21/2018 09:31 AM
Charly:
Just marvelous, and as Larry said, delightful when read aloud. Of course all poems should be read aloud. Thank you, Robert!
Posted 10/21/2018 08:09 AM
Larry Schug:
Great natural rhythm and sneaky internal rhymes make this poem a joy to read aloud. Good work.
Posted 10/21/2018 06:29 AM
paradea:
I like this poem, Robert!!!
Posted 10/21/2018 05:37 AM