She steps into her teenage self,
calls up balletís first port de bras.*

She raises her rounded arms
as if drawing an imaginary line
from her thighs to the crown of her head,
while a current passes through her
awakening an inner flame.

As her arms climb†
to a Chopin tune the live pianist
bangs out, her gaze is a candle
that never stops burning. Oh,
to linger forever in this dream.

At the top of the movement
her limbs become wings.
She floats them downward
subduing her ferocious longings
and in the name of what keeps her alive,
the light in her body expands.
†

© by Jean Colonomos.
Used with the authorís permission.
†
*a movement of the arms
†
†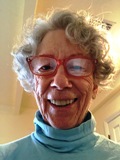 Jean Colonomos began her career in the arts as a ballerina and then as a modern dancer. Her last engagement was with the Martha Graham Dance Company. After leaving performing, Jean became a dance journalist, writing for such publications as Dance Magazine, The Village Voice, and The New York Dance Calendar. She also started writing poetry; her work has been published online and in poetry journals and she is the author of a chapbook, Art Farm (Finishing Line Press). Jean and poet Millicent Borges Accardi co-founded Loose Lips, which regularly produces poetry events at the Topanga Library in Topanga, California. Learn more about her at http://jeancolonomos.weebly.com.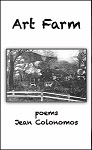 †
†
Lori Levy:
Beautiful!
Posted 12/10/2018 05:28 PM
barbsteff:
Sending to my granddaughter, a ballerina!
Posted 12/10/2018 12:10 PM
cork:
I am moved!
Posted 12/10/2018 08:29 AM
Larry Schug:
I would rate "Where Beauty is Enough" (if I rated poems) with a five star Wow!
Posted 12/10/2018 07:42 AM
KevinArnold:
Effective co-mingling of the language of dance. Fun!
Posted 12/10/2018 06:03 AM