We don't meet as equals the horse and I
our relationship already framed by his training
was it harsh?
he accepts--
accepts my encumbering saddle upon his back
and the bit in his mouth
not kicking, not bucking, not taking flight
but enduring.
holding his instincts in check
against myriad irritations
as only the most noble can do
until my legs and hands
and the balance of my body
signal I mean no harm
then, in exchange for that small civility,
he lends me his strength
his heart and his courage
sharing the best that he is
with me
so I can be more than I am
for a little while
cross country.


This poem first appeared in the Pangolin Review.
Used here with the author's permission.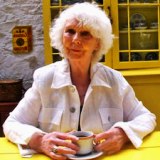 Maryalicia Post grew up in New York City and has lived most of her life in Dublin, Ireland. A journalist and travel writer, she was also a "committed" cross country horseback rider for many years. Her book, After You, chronicles the year after her husband died. Learn more about Maryalicia at www.maryaliciatravel.com.
Mary Lou Taylor:
Loved thhis poem. I hope Kevin Arnold takes a look. His new book is called The Sureness of Horses.
Posted 12/14/2018 05:40 PM
wordartdjc:
What a lovely tribute to this animal that I believe we all respect. She has said it so very gracefully.
Posted 12/13/2018 07:38 PM
Lori Levy:
Beautiful depiction of the relationship between horse and rider.
Posted 12/13/2018 03:58 PM
michael escoubas:
Wonderful tribute Maryalicia, poet whose name is poetry all by itself!
Posted 12/13/2018 12:27 PM
DavidTookey:
A beautiful picture of the mysterious bonds that form between people and animals. Extremely well done.
Posted 12/13/2018 09:50 AM
paradea:
Fantastic!!
Posted 12/13/2018 08:56 AM
cork:
Saddle up!
Posted 12/13/2018 08:27 AM