Dated once a ballerina,
learned she only ate farina.
 
Then a barmaid caught my eye
but like some cocktails, very dry.
 
The English teacher – what a sport!
'Til she assigned a book report.
 
That harpist from the symphony
was ripe for plucking, not for me.
 
A children's doc had much allure
but often suffered croup du jour.
 
Two editors of legal news
spoke only of it. What a snooze.
 
A comic's now made me her choice.
She's serious! I thus rejoice.


© by Phil Huffy.
Used with the author's permission.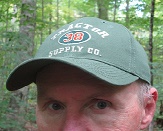 Phil Huffy lives and writes in upstate New York, an area known for its proximity to Lake Ontario and a regional specialty known as "Chicken French." He is himself a long time vegetarian, although he avoids kale. Phil likes to think on his feet, often returning from a walk or hike with some ideas or first lines of a poem. The writing comes later, often at the kitchen table.
Lori Levy:
Love the humor in this poem.
Posted 02/02/2019 02:18 PM
njc:
Perfect ending!
Posted 02/02/2019 10:24 AM
wordartdjc:
Phil, You are a 'hoot'. I so enjoyed this couplet poem. Maybe I should take up vegetarianism for a try too at your very keen mind.eh?
Posted 02/02/2019 09:58 AM
cork:
My choice would be a librarian if she were not a vegetarian.
Posted 02/02/2019 09:49 AM
forrsher2:
Now here's a guy with a sense of humor as well as a knack for poetry.
Posted 02/02/2019 08:10 AM