as if you were the light
because you are, brilliant
being of resplendent energy,
fiery as the brightest star.
†
Every atom of you the same:
absolute kin to earth, tree, sky.
Your body unique yet identical to mine,
indistinguishable from mountain,
hawk, lion and sea; all light
†
morning, noon and night
chanting one word, one law
above all: Love.


© by Arlene Gay Levine.
Used with the authorís permission.

†
†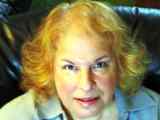 Arlene Gay Levine is the author of 39 Ways to Open Your Heart: An Illuminated Meditation (Conari Press) and Movie Life (Finishing Line Press). Her poetry and prose has appeared in many venues, including The New York Times, an off-Broadway show, and on radio. Arlene lives with her husband in New York City, where she tends a garden of words, roses and herbs. Learn more about her at http://www.arlenegaylevine.com/.
Lori Levy:
Yes, the best "law" of all!
Posted 02/14/2019 04:34 PM
Jo:
Well said and a perfect poem for today. (and everyday)
Posted 02/14/2019 11:33 AM
wordartdjc:
So thoughtful. Yes, Love above all Happy Valentine's Day to each one who reads this
Posted 02/14/2019 10:24 AM
nancilee:
Love this. Well written. Emotional.
Posted 02/14/2019 09:49 AM
KevinArnold:
Oh, I get it . . . the uncapitalized 'as' invites the title into the poem . . . Live Lightly as if . . . Arlene was way ahead of me on that one.
Posted 02/14/2019 09:34 AM
michael escoubas:
So well said, Arlene. Beautiful beginning to a special day indeed!
Posted 02/14/2019 07:54 AM
Larry Schug:
You get it, Arlene, and express it and artistically and simply.
Posted 02/14/2019 07:17 AM