No one wants to be here anymore!
Is that guy with the laptop and vanilla
latte really at Starbucks in Walnut Creek?
Or surfing cyber seas on Google Earth?
I glimpse the primal passion of the questor
in his eye, as his fingers roam up & down
the track. Any where is preferable to here.

Cut to Top of the Mark where four Facebook
"friends" have "gotten together" in the flesh
to toast this evening's birthday girl, Sue;
who, ignoring the view of San Francisco,
is texting former college roommate Pat
on the lower West Side of Manhattan;
while Friend Kim is phoning boyfriend Matt
at Giants Stadium in Rutherford, New Jersey
(courtesy of Stan's Sports Bar in San Jose).
By the time they return to sip champagne
Brenda and Jane are both off BlackBerrying.
 
On BART the inmates have gone wireless;
jailhouse-rocking to gangsta rap on iPods;
Kindling jiffy book deals on the Amazon;
or searching the Verizon for accomplices;
arranging Great Escapes via getaway cars
in parking lots a few stops down the line.

The only ring to fear is ringtone itself.

You! who pretend you're in this bookstore
or café hearing me read this grumpy poem:
I can see you tweeting what you've scribbled
on your napkin—to Simply Haiku in Kyoto.

Trapped inside technology's revolving door,
permit me to emit this non-Bronx cheer:
Gertrude! thou should be living at this hour!
America has need of thee to glower:
When you get here there's no here here.


This poem first appeared in Thema.
Used here with the author's permission.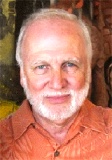 David Alpaugh has been a featured poet at bookstores, colleges, cafes, and poetry organizations in the San Francisco Bay Area more than 100 times. His first full collection, Counterpoint, won the Nicholas Roerich Poetry Prize from Story Line Press, his poetry and essays have appeared in numerous literary journals, and he is the author of three award-winning voice plays. A finalist for Poet Laureate of California, David teaches poetry for the University of California Berkeley Extension and at the Osher Lifelong Learning Institute's Cal State Hayward and UC Berkeley campuses. Learn more about him at www.davidalpaugh.com.
Lori Levy:
Great!
Posted 03/01/2019 05:37 PM
Jo:
An important poem and one we all need to think about--Right now I am writing to tell you I like this poem very much. Then I will shut the computer down and enjoy the rest of the day with a walk and then dinner. Thanks so much
Posted 03/01/2019 04:53 PM
CamilleBalla:
And as I?m reading this, the next incoming email is flashed across the top of my screen. Very interruptive!! A good poem of awareness of what?s happening. What we need is awareness of the present moment?as another news flash interrupts my screen. And it?s not what I consider news?and yet another!
Posted 03/01/2019 11:43 AM
michael escoubas:
Your poem has certainly put me to thinking, David. Thank you. Lessons for all in this one.
Posted 03/01/2019 10:41 AM
wordartdjc:
Hello, I do not own a 'smart' phone for this very reason, however, there is no way that I am not exposed to the 'mania' of seeing all of this sad state every day. Great Poem. Does anyone believe that'this too' shall one day pass away?
Posted 03/01/2019 09:12 AM
cork:
How does one exist in the present?
Posted 03/01/2019 08:42 AM
paradea:
Exactly!!!!!
Posted 03/01/2019 07:34 AM
Randy Cadenhead:
And here from virtually nowhere someone sends his sincere thanks.
Posted 03/01/2019 07:30 AM