Erecting
               the little tent.

Setting out    a place           
        for water.

The cook stove.
                              Chairs to go round    
                
                 the fire ring.
                     Here,        the
                                      wood
                                      stack.

There,        to sip our coffee.
           There,     to place our shoes.

Even—
                             among the looming
                             lodgepole pines,

                             walls of granite,
                             larch, goldfinch;

                 as we speak
                 in hushes

                 not to interrupt
                 the snowmelt creek;

        where we've come to find
        something missing, hidden

        in the cedar smoke,
        needle scent, bird sounds

—still
           we make our little homes.


© by Ryan Warren.
Used with the author's permission.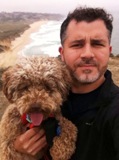 Ryan Warren lives with his family in the Pacific Northwestern U.S. where they hike, watch movies, and play with their dog, Ziggy. Ryan is a 2017 Forward Prize for Poetry nominee, a 2016 Pushcart and Best of the Net nominee, and his poetry has appeared in numerous journals and the anthology, Carry the Light. Learn more about him at https://ryanwarrenpoetry.com.
simon:
Thank You! I can see myself there, remembering who I am as the bird sounds and needle scent soothe my being, Si xo
Posted 06/07/2019 07:01 AM
Jancan:
Through use of specific details, you paint an appealing, peaceful scene. Janice
Posted 05/30/2019 09:54 AM
barbsteff:
I'd rather read it in a conventional stanza form, but it sets the scene of a great place to camp.
Posted 05/30/2019 09:52 AM
cork:
I love the spaces.
Posted 05/30/2019 08:53 AM
KevinArnold:
Fine poem with a killer ending.
Posted 05/30/2019 08:29 AM
michael escoubas:
WOW! I usually steer clear of wild indentions--but in this case Ryan, you use them quite effectively. I can "see" the campground better because of your positioning of terms. Congratulations on writing a well-crafted poem both visually and lyrically.
Posted 05/30/2019 08:19 AM
peninsulapoet:
Always a pleasure to read a Ryan Warren poem.
Posted 05/30/2019 07:46 AM
Janet Leahy:
The details in this poem carry me right to the campsite. My favorite line?"as we speak in hushes." What a reprieve from the noise of the world. Thanks Ryan
Posted 05/30/2019 07:36 AM
Larry Schug:
Imagination, through this poem, takes me from my house to a beautiful place in the woods. thanks for inviting me with these words.
Posted 05/30/2019 07:21 AM