When I'm unable to get the lid off
a jar of dill pickles, Dad hands me
the same bent butter knife he used
earlier to pry open his key ring.

A toolbox tray in his utility room
has a few rusted nails, some wire,
two hacksaw blades, an ink pen,
several sockets and a toothbrush.

There's a pair of vise grip pliers,
three flat tips and a cross point in
his kitchen drawer I'd seen while
searching for a roll of scotch tape.

Dad has tools in the barn, car trunk
and well house he can never find,
that someone else must have used
and didn't put back where it belonged.

I arrive to borrow a hammer from my
brother's organized garage filled with
tools for every job to find him scraping
mud from his shoe with a butter knife.


This poem first appeared in Blast Furnace (December 2013).
Used here with the author's permission.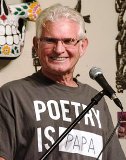 Carl "Papa" Palmer lives in University Place, Washington now, but grew up on Old Mill Road in Ridgeway, Virginia. Retired from the military and the Federal Aviation Administration (FAA), he enjoys being a Franciscan Hospice volunteer and being "Papa" to his grand descendants. Carl is the author of six chapbooks and his work has been published in more than 200 journals around the world. His motto is "Long Weekends Forever!"
CamilleBalla:
The unexpected ending made me smile at the craft and chuckle at the orderliness.
Posted 06/14/2019 06:46 AM
barbsteff:
What a delightful ending!
Posted 06/13/2019 04:38 PM
Lori Levy:
Great, especially the ending!
Posted 06/13/2019 02:28 PM
BAMars:
Very nice, the coming full circle, the utility of butter knives, the ode to orderliness.
Posted 06/13/2019 09:40 AM
paradea:
Love it!!! A butter knife can also serve as a screwdriver in a pinch!!
Posted 06/13/2019 08:44 AM
Larry Schug:
A fine salute to the universal idea of the post WW II generation of American fathers. "Someone...didn't put it back where it belonged".
Posted 06/13/2019 07:34 AM