Iím up at dawn picking blueberries
because the busybody catbirds and I play
without a net. Slim, formally dressed
in slate gray and black cap, they scold
me with sharp chips, a grating tcheck, tcheck
from among the tangle of branches
and dangling berries. Jauntily flipping
long tails, they burst from the bush,
alighting on trees to tease nearby
felines with poorly accented rhythmic mewing.

When Iíve picked my fill, theyíre back
with twitchy doings and halting,
rambling warbles filled with squeaks, complaining
checks, mews and shrill cries more conversational
than musical. Sovereign squatters,
they pluck fruit just before ripe,
denying me sweetness despite years
of watering, pruning, composting and fertilizing.
Saucily they insist, itís more than compensation
for the soothing sweetness of their song.


© by David K. Leff.
Used with the authorís permission.
†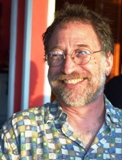 David K. Leff (1955 - 2022) was an author, poet, and playwright, the author of six nonfiction books, three volumes of poetry, and a novel in verse. His journals, correspondence, and other papers are archived at the University of Massachusetts Libraries in Amherst. David's 2016 book, Canoeing Maine's Legendary Allagash: Thoreau, Romance and Survival of the Wild, won a silver medal in the Nautilus Book Awards for memoir and a silver medal in the Independent Publisher Book Awards for regional nonfiction. In 2016-2017, the National Park Service appointed him as poet-in-residence for the New England National Scenic Trail (NET). David served in a multitude of civic roles, including Deputy Commissioner of the Connecticut Department of Environmental Protection and town meeting moderator, historian, and volunteer firefighter--for 26 years--in his hometown of Canton, Connecticut. Learn more about David at www.davidkleff.com.
Lori Levy:
Love the language and images.
Posted 07/12/2019 05:31 PM
Jo:
What a terrific poem! I enjoyed your playful language, thought your comparison to you, the catbird, and tennis was brilliant. Loved all the sounds. thanks for such a good read.
Posted 07/12/2019 04:52 PM
barbsteff:
Love this poem. "Saucily they insist" great use of sound. First place we lived in NE Illinois after marriage hosted a catbird right outside a kitchen window. Never had one since.
Posted 07/12/2019 12:45 PM
Sharon Waller Knutson:
I loved how you personalized the catbirds and use the metaphor of playing tennis. Delightful poem.
Posted 07/12/2019 10:56 AM
michael escoubas:
Sounds like your "sovereign squatters" know how to get what they want, David! Great poem, thank you.
Posted 07/12/2019 08:28 AM
Larry Schug:
This poem fits into my day perfectly after reading a quote from Thoreau just previously. There's a catbird at my jelly feeder as I write this. How does that happen?
Posted 07/12/2019 07:23 AM