The sun's finger and thumb
will rub those stems
without kindling them,
choosing to caress
their plump bodies warm.
My pears will not melt
as would scented candles
lit in the aging twilight,
but they will still shine
my kind of light.
Then I will know
how to bite into pears
in the kindest way
and how to accept
their sweet forgiveness.
From Suddenly Slow (Handtype Press, 2008)
Used with the author's permission.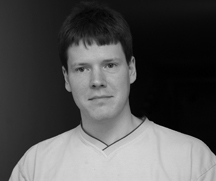 John Lee Clark was born deaf and became blind in adolescence. His work has appeared in many publications and he is the author of a chapbook and editor of the definitive anthology, Deaf American Poetry, published by Gallaudet University Press. A collection of essays was published last December. John is a certified Braille instructor and a certified Pro-Tactile trainer. When not writing, he enjoys spending time with his wife and three sons, tandem cycling, and various community activities. John lives in St. Paul, Minnesota; learn more about him at www.johnleeclark.com.
dotief@comcast.net:
Very nice!!!
Posted 03/15/2015 04:40 PM
Janet Leahy:
This poem is delicious, thanks John.
Posted 03/15/2015 09:03 AM
Cindy:
sweet
Posted 03/15/2015 08:48 AM
mimi:
sweet and succulent...lovely!
Posted 03/15/2015 08:11 AM
KevinArnold:
Oh yes, Then I will know / how to bite into pears / in the kindest way / and how to accept / their sweet forgiveness. //
Posted 03/14/2015 11:50 PM
Katrina:
More than apPEARances.
Posted 03/14/2015 11:17 PM