Crows gather, dotting the low branches
of leafy trees, sheltering themselves
from inquisitive eyes, calling out
to each other with harsh voices
in an overlapping rondeau of caws.
†
Their guttural cries are deafening.
What are they saying to one another?
One voice calls out above the din.
It is a different call that brings
the murder to momentary silence,
a pause in the rowdy discourse.
†
Then the unruly noise begins again.
The solitary voice calls out once more
and order is restored at last.
What exactly did he say to them?
Could he share just that one secret?
†
The raucous sounds, the disharmony
of corvine voices, slowly lessens.
From the forest understory, the crows,
hidden except for the sound of their voices,
slip away one by one on sleek ebony wings.
†
Taking flight, leaving their staging ground,
they move on to join their kindred
in their ancient communal roost,
carrying their secret language with them.


© by Carroll S. Taylor.
Used here with the authorís permission.

†
†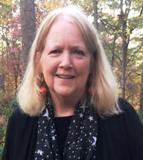 Carroll S. Taylor and her husband live in Hiawassee, Georgia. A retired educator, she is the author of two young adult novels, Chinaberry Summer and Chinaberry Summer: On the Other Side. Carroll's novels emphasize generational storytelling and anti-bullying, and her stories and poems reflect her affection for reptiles, amphibians, spiders, and other critters. Learn more about her at chinaberrysummer.com.
Lori Levy:
Beautifully portrays the "staging ground."
Posted 08/08/2019 05:33 PM
Jean Colonomos-1:
Love the mystery, the sounds of a secret language which resonates non-verbally in your poem.
Posted 08/08/2019 10:06 AM
Michael:
Wonderful use of visuals and sounds, Carroll. Thank you.
Posted 08/08/2019 10:01 AM
Janet Leahy:
This poem springs from close attention to details of life in the murder of crows. Wonderful language in this piece?"the ancient communal roost." Thanks Caroll.
Posted 08/08/2019 09:34 AM
cork:
You have a wonderful way with words.
Posted 08/08/2019 09:30 AM
KevinArnold:
Somehow Wordsworth?s definition comes up: ?Poetry is the spontaneous overflow of powerful feelings: it takes its origin from emotion recollected in tranquility.?
Posted 08/08/2019 09:08 AM
Larry Schug:
Ever mysterious are crows, always a good subject for a poem. I like poems that ask questions no one can answer. I especially like the lines "a different call that brings the murder to momentary silence".
Posted 08/08/2019 07:33 AM