First,
before the noise
& dayís distractions,
comes late summer
dove song & the steady
antiphonal calm
of cicada rhythms,
later found as empty drum skins,
discarded exoskeletons strung
as empty shrub ornaments
in our front yard.
Yellow & black swallowtail
butterflies swirl, dance
upon bright orange feathered
blossoms & a single
green dragonfly
sits perched,
conducting upon a stick.
Silver hose water flows steady
into a bed of parched &
seedy wildflowers
while an August sweat
slowly trickles down my neck.
Gently, I rescue two striped
monarch caterpillars
from the last leaf
of a sun-spent milkweed plant,
then carefully place them
on another, still full,
green enough
to fill their hunger.
Up above my head hops
a golden fronted woodpecker
who feasts upon a ripe plenty
of bright orange granjeno
drupes hung upon
the tree.
Later, he taps
some loud Morse code message
from the tall branched ash,
proclaiming to all
within hearing
that Life is
good.


© by Elizabeth Perdomo.
Used here with the authorís permission.
†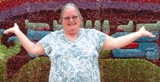 Elizabeth†Perdomo†has lived and written in the Rio Grande Valley of South Texas for the past sixteen years, moving to the region from the Rio Grande Valley of New Mexico.†Born in Kansas and raised both there and in Colorado, Elizabeth also lived in the southeastern U.S. for a number of years, where her three daughters were born and homeschooled.†Elizabeth has been writing poetry since her teen years, on topics that include local place and culture, cooking, gardening, ecology and nature, traditions, spirituality, and more. The author of†One Turn of Seasons, featuring poetry about people and places in East Tennessee,†Elizabeth's work is also featured in the anthology,†Kansas Time + Place.
†
Lori Levy:
I agree. Beautiful!
Posted 08/11/2019 12:30 AM
Linda Lee Konichek:
This presents a beautiful picture in my mind, love all the detailed imagery.
Posted 08/10/2019 09:34 PM
Lisa C:
What beautiful imagery. It was as if I was there enjoying all those wondrous things.
Posted 08/10/2019 02:50 PM
Jancan:
My free verse stinks, but I know good free verse when I read it. This is an EXCELLENT, lovely blend of literal language and awe-inspiring figurative language.
Posted 08/10/2019 12:12 PM