Moonless shadows flicker from an ebbing
amber candle on the farm house porch
just off Old Mill Road, too hot to sleep.

Solstice stillness in rural dark deepens
following a distant dim lightning flash
rumbling thunder this midsummer night.

Invisible insect songs vibrate, orchestras
offer background sound, nocturnal noise
serenades silence and soaks into my soul.

Crickets join cicada squall as trills of tiny
tree frogs call, an owl's question answered
by the whip-o-will vainly whistling his name.


This poem first appeared in Everyday Poets (April 2014).
Used here with the author's permission.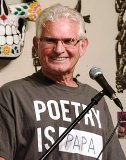 Carl "Papa" Palmer lives in University Place, Washington now, but grew up on Old Mill Road in Ridgeway, Virginia. Retired from the military and the Federal Aviation Administration (FAA), he enjoys being a Franciscan Hospice volunteer and being "Papa" to his grand descendants. Carl is the author of six chapbooks and his work has been published in more than 200 journals around the world. His motto is "Long Weekends Forever!"
Lori Levy:
Sounds very appealing to sit on that "farm house porch/ just off Old Mill Road."
Posted 08/13/2019 05:24 PM
Michael:
I love poems about "stillness." Like the way 'stillness soaks into my soul.' Thank you Carl!
Posted 08/13/2019 10:45 AM
Jancan:
This poem has excellent imagery, and alliteration enhances the overall effect.
Posted 08/13/2019 09:33 AM
paradea:
Yes. The last stanza is the best!!!!
Posted 08/13/2019 09:30 AM
Larry Schug:
The final two lines are superlative. (as is the rest of this poem).
Posted 08/13/2019 07:35 AM