After a record rain, the first slice of sun
over the Bear Paw Mountains strikes a match
against a spruce by the cabin
An explosion of luminous gold encircles the tree
Alive in the swirl and low hum
Otherworldly in the prickles on my arm

Closer, the hum becomes a baby chain saw buzz
operated by thousands of dragonflies
Their wings flapping 24-carot fluorescence
One worker lights on a finger
on hands folded in reverence

A live ring with four-inch wingspan of shimmer
that casts me onto the fence of indecision
Straddled between desire to own
or to honor a dragonfly's right to life

Its stereoscopic eyes look into mine
In them I see the necklace of ranch surrounding us
How it fits in the jigsaw puzzle of prairie
The species that crawl, jump, fly
swim, gallop, eat and mate before returning
to the soil to become food for the earth's survival
†
I see in these eyes how my shape must also fit
And I lean away from the fall
toward a cage or embalming fluid
Instead into the cabin
where a compromise waits
to capture the small miracle on my finger
To sanction the Jamaican belief
that a photo steals its subjectís spirit


This poem first appeared in Ibbetson Street.
Used here with permission.
†
†
†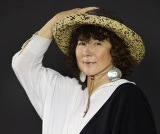 Photo by Alexis Rhone Fancher
Ellaraine Lockie is widely published and awarded as a poet, nonfiction book author, and essayist. Her work has found its way onto broadsides, buses, rented cars, bicycles, cabins, greeting cards, key chains, bookmarks, mugs, coffee sack labels, church bulletins, radio shows and cable TV. Ellaraine teaches writing workshops and serves as Poetry Editor for the lifestyles magazine, Lilipoh. She is also a professional papermaker and creates "pollages", which reflect her loves of papermaking, poetry, and collage. Ellaraine's latest book is Sex and Other Slapsticks (Presa Press), a compilation in which every poem has won a contest award. You can order a signed copy for $11 at elockie@earthlink.net. Learn more about Ellaraine, who divides her time between California and Montana, here.
Sharmagne:
Great imagery! Libellula (Dragonfly) is our new spirit animal since we have moved to Italy! Your poem takes me directly back to the aspen spinney between the lodge and the river in our Washington home. hank you for the memories!
Posted 10/15/2019 01:36 PM
LB Sedlacek :
Wonderful! If I?m lucky enough to see a Drangonfly, I always stop whatever I?m doing to watch it. Beautiful work!
Posted 08/15/2019 11:19 AM
KevinArnold:
Ahhh, Ellaraine, with her craft and her heart, seldom disappoints. Four-inch wingspan of shimmer indeed.
Posted 08/15/2019 10:23 AM
Larry Schug:
Thank you for sharing this moment. Beautiful and thought-provoking throughout.
Posted 08/15/2019 07:37 AM