August is coming
and the goose, I'm afraid,
is getting fat.
There have been
no golden eggs for some months now.
Straw has fallen well below market price
despite my frantic spinning
and the sedge is,
as you rightly point out,
withered.

I can't imagine how the pea
got under your mattress. I apologize
humbly. The chambermaid has, of course,
been sacked. As has the frog footman.
I understand that, during my recent fact-finding tour of the
Golden River,
despite your nightly unavailing efforts,
he remained obstinately
froggish.

I hope that the Three Wishes granted by the General
Assembly
will go some way towards redressing
this unfortunate recent sequence of events.
The fall in output from the shoe-factory, for example:
no one could have foreseen the work-to-rule
by the National Union of Elves. Not to mention the fact
that the court has been fast asleep
for the last six and a half years.

The matter of the poisoned apple has been taken up
by the Board of Trade: I think I can assure you
the incident will not be
repeated.

I can quite understand, in the circumstances,
your reluctance to let down
your golden tresses. However
I feel I must point out
that the weather isn't getting any better
and I already have a nasty chill
from waiting at the base
of the White Tower. You must see
the absurdity of the
situation.
Some of the courtiers are beginning to talk,
not to mention the humble villagers.
It's been three weeks now, and not even
a word.

Princess,
a cold, black wind
howls through our empty palace.
Dead leaves litter the bedchamber;
the mirror on the wall hasn't said a thing
since you left. I can only ask,
bearing all this in mind,
that you think again,

let down your hair,

reconsider.
From From the Loveless Motel (Jonathan Cape, 1980).
©Adrian Henri. Reproduced by permission of the estate of Adrian Henri
c/o Rogers, Coleridge & White Ltd. 20 Pois Mews, London W11 1JN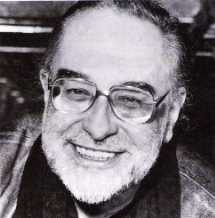 Adrian Henri (1932 - 2000) was a British poet born in Cheshire, raised in Wales, who then adopted Liverpool, England, as his home. A performance poet decades ahead of his time, Adrian's penchant for taking poetry "to the street," as it were, made him beloved by fans of all ages and social standing and he was a creative tour de force for forty years. His relationship and work with two other British poets, Roger McGouch and Brian Patten, often prompted critics to compare the three to America's "beat poets." Part of a band called The Liverpool Scene, which opened once for Led Zeppelin, Adrian was a friend of fellow Liverpoolians John Lennon and Paul McCartney. Music, writing, and art were the three passions of his life, and he was gifted at all three, winning major awards for his paintings and composing children's books, stage plays, and television dramas in addition to poetry. Rendered virtually incapacitated in the 1990s by a quadruple heart bypass and two severe strokes, Adrian fought valiantly to walk, talk, and paint again--and did--though he never fully recovered.
rosezamy:
Love it! Passed on to friends! Keep up the good fight!
Posted 03/27/2015 07:53 AM
transitions:
What a great comedic vibe, and written so cleverly. Made me smile :)
Posted 03/18/2015 12:30 PM
Sherry:
Beautiful and so very clever.
Posted 03/18/2015 09:09 AM
phebe.davidson@gmail.com:
Fabulous in the best possible senses of the word!
Posted 03/18/2015 06:40 AM
rhonasheridan:
Every time I read this lovely poem it gets better.
Posted 03/18/2015 02:01 AM
phoswald:
Delightfully enchanting. Please mum, may I have more!
Posted 03/18/2015 12:26 AM
poetronics:
Terribly charming!
Posted 03/18/2015 12:07 AM
twinkscat:
Lovely, just lovely.
Posted 03/17/2015 11:20 PM
Katrina:
:-)
Posted 03/17/2015 11:14 PM