Red-dusted leaves flicker
like clusters of small fires
crackling against a denim sky.
Early rains have turned
brown summer grass green,
each blade crowned with dew.

Days are bountiful with spiders
orb-stitching in every vacant arc;
in bare angles between post and rail
they've staked a plot of real estate
for themselves and progeny.
Even the porch broom propped
against the potting shelf tethers
a glistening web and in its center
an eight-legged guardian waits.

Our neighbor's horses, hidden
behind a blind of conifers,
stamp restless hooves and blow
nostril air to soothe themselves.
A deep quiet abides,
a deep breathing in and out—
time's at work, changing
gold to brown, warm to cold,
light to dark, leading us
to its kindly tent of rest.


© by Diane Stone.
Used with the author's permission.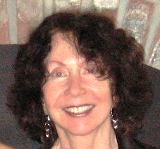 Diane Stone, a former technical writer-editor, lives on Whidbey Island, north of Seattle, with her husband, cat, and hens. Her work has been published in poetry journals and anthologies. Diane credits her grandfather for her early interest in poetry; he taught her that poetry happens anywhere, reciting his favorite poems to her even when they were fishing.
Jancan:
So lovely--great use of specific, vivid details
Posted 09/16/2019 06:39 PM
Liveinktheatre:
?Even the porch broom ?. Saw it all crystal clear. Thank you for the spell this poem cast on me.
Posted 09/16/2019 04:07 PM
Larry Schug:
Indeed,a poem lush with word paintings and a sound track in the last verse.
Posted 09/16/2019 10:58 AM
KevinArnold:
Once you brought in the horses, you had me.
Posted 09/16/2019 10:01 AM
Wilda Morris:
Very evocative! "Denim sky," "orb-stitching," and a broom that "tethers" a spider web - what creative and beautiful language!
Posted 09/16/2019 09:01 AM
michael escoubas:
Diane, lovely piece rich in images and compelling language. Excellent work.
Posted 09/16/2019 06:34 AM
vscholtz:
"time's at work" for sure. And - I share your experience with the spiders, those dread weavers of delicate beauty. Thanks.
Posted 09/16/2019 04:55 AM