If yah come from some other part of the country,
then yah probably donít know about the sanctity of lobstah.
Yah probably cahnít tell lobstah roll from a red shoebox.
Yah probably donít know to toast the bun,
mix in the mayonnaise, add more lemon.
To some, itís just like a hotdog, but fishy.
Yah probably donít even know that the forefathers
ate this spiny sea spider flesh, way before the Constitution,
ate it cuz they was hungry,
ate it cause it was theyah.
Yah probably donít know how much it matters.
Lobstah.
Up heyah.


© by Gabriella Brand.
Used with the author's permission.
†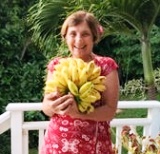 Gabriella Brand is a language teacher, a writer, and an adventurer. She has done several long distance treks in Europe and Asia. Gabriella divides her time between Connecticut and Quebec, where she teaches French to refugees and paddles her own canoe. Learn more about her at†https://gabriellabrand.net/.
†
†
†
paradea:
I love this!! Inconsistencies?? Who cares!!! Liberties taken affecting an accent not your own?? Who cares!!!
Posted 09/25/2019 10:53 PM
Lori Levy:
I like it--dialect, inconsistencies, and all!
Posted 09/25/2019 08:29 PM
njc:
A fun piece that benefits from the dialect...but to be consistent, how about part, more, forefathers, spider, matters.
Posted 09/25/2019 10:31 AM
mableione:
It made me laugh...not an easy thing to do! Understand the question about using printed dialect. OK by me!
Posted 09/25/2019 10:07 AM
r1manchester:
I'm not sure someone from Conn. has the privilege of trying to affect a Maine accent. It sounds like making fun of it, just like if a Mainer were to say "have a cup of caw-fee", as many Conn. people do.
Posted 09/25/2019 07:55 AM
Larry Schug:
I have mixed feelings about the use of dialect. On one hand, I'd love to hear it read aloud. On the other, I'm not sure how it works in print. I do like the use of the word, "sanctity" and "spiny sea spider".
Posted 09/25/2019 07:41 AM