He looks in the mirror and what he sees
is a '53 Oldsmobile Super Sport,
a sleek two-tone hardtop convertible,
robin's egg blue with snowy top.
He is 21, delirious with joy,
behind the wheel, left arm at rest
on the open window frame.

He looks again and now there is
a '54 Chevy sedan, washed-out blue,
plain as faded denims. He is 23,
flying towards the woman who
will be co-pilot of his future.

Now in the mirror he sees a green
'64 Ford Falcon, only two doors –
to keep their three small kids from
misadventure and he is now 27.

Next in the mirror is a bronze-toned
'67 Impala with V-8 engine enough
to power a family of six and he is 30.

On the streets of Santiago de Cuba,
now in his 70s, his mirror presents
an ongoing cavalcade of vintage autos
and at any moment now, he expects he
will meet an earlier self, waving at him
from behind some steering wheel.


© by Glen Sorestad.
Used with the author's permission.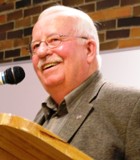 Glen Sorestad has been writing poems for fifty years and claims he still enjoys doing so. His wife Sonia is his first and most enthusiastic reader and editor. They live in Saskatoon, "the Paris of the prairies." Learn more about Glen here.

CamilleBalla:
An interesting way that memory shows your traveling through life, Glen, ending with seeing a former self driving a familiar vehicle. Nice poem! I have been reading these poems about aging out of order. Thanks to Jayne for selecting the topic on aging. I sure can relate to everyone's thoughts through their poetry.
Posted 10/04/2019 02:02 PM
Jo:
What a fun poem. A wonderful way to show aging through the cars you drove. Thanks, Glen
Posted 09/30/2019 01:12 PM
Wilda Morris:
A great turn at the end! While I drive Toyota, I sometimes think with nostalgia of the Chevy Scooter I drove or - my all-time favorite - a Mercury.
Posted 09/30/2019 09:45 AM
cork:
We all identify because we each have a car history.
Posted 09/30/2019 08:57 AM
Larry Schug:
I like the unexpected ending(to me, at least). Thanks for taking us for a ride,Glen.
Posted 09/30/2019 08:07 AM
bbatcher:
Great optics.
Posted 09/30/2019 08:03 AM
paula:
How quickly the years pass--this poem captures it s well.
Posted 09/30/2019 06:17 AM