Is this natureís way of telling me
Not to run in the corridor of life
Or chase the ice cream van
Of opportunity knocking
Or the wild horse
Of love bolting
But to walk soberly in sensible shoes
Planting each foot firmly
Before I take the next step?
Or simply reminding me
That even after all these years
Of trying
I still canít fly


This poem first appeared in Pangolin Review (September 2018).
Used here with permission.
†
†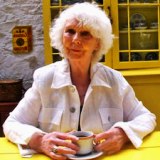 Maryalicia Post grew up in New York City and has lived most of her life in Dublin, Ireland. A journalist and travel writer, she was also a "committed" cross country horseback rider for many years. Her latest book is This Life: A Love Story. Learn more about Maryalicia at www.maryaliciatravel.com.
Jancan:
Such wonderful, effective metaphors of life and aging--and perceptions!
Posted 10/05/2019 09:48 AM
Wilda Morris:
Well-expressed! My hurry just got me a fractured foot. Another time, it could be worse! For some reason, I cannot fly either! Thanks for putting it so poetically.
Posted 10/04/2019 02:55 PM
CamilleBalla:
Planting each foot firmly Before I take the next step? A couple of falls can teach us not to hurry. Another way to be in the moment. At some point, we get the message. Nice poem.
Posted 10/04/2019 01:44 PM
Jo:
It does come to that doesn't it? Sensible shoes, watching where we're walking. Realizing that we can't fly. Enjoyed reading, Maryalicia
Posted 10/02/2019 09:18 PM
barbsteff:
Who wants to walk soerly in sensible shoes? Not I, though I've been doing so for some time now. Good observations posed here.
Posted 10/02/2019 05:45 PM
Lori Levy:
Great questions posed in this poem!
Posted 10/02/2019 02:17 PM
michael escoubas:
Hey Maryalicia, why didn't you write this when I was young? When I needed it!! LOL! Well done.
Posted 10/02/2019 11:46 AM
Jean Colonomos-1:
I'm with you.
Posted 10/02/2019 10:34 AM
KevinArnold:
The first and last lines work well together.
Posted 10/02/2019 10:07 AM
njc:
It's hard to admit how true this all is...well said.
Posted 10/02/2019 09:32 AM
paradea:
Good one!!!
Posted 10/02/2019 07:53 AM
plgoodman:
Yes Ma'am, you have said it! Too many falls from hurrying, not watching where I was putting my feet. I'm with you. Thanks.
Posted 10/02/2019 07:46 AM
trailrunner :
Thank you! This was special c
Posted 10/02/2019 07:31 AM
Soc:
Love this poem, love this poet.
Posted 10/02/2019 05:54 AM