…and this yellow one is his equipment belt. It goes here between these two blue pieces. He's a good guy.
The bad guys wear red and shoot red laser beams from their saber sword. They don't
really kill people though, it's not real life. They're just toys, Papa.
 
No, I'll be doing this part. Your job will be to put the pieces in piles of the same color so I can
find them better. Sometimes it takes me longer to look by myself.
You're a good helper, Papa.
 
We already did that page, we're right here. It's the robot hover capsule. I already know how it
goes together by myself, see. While I finish this one you can put the wheels on the Transport
tanker and then we are done. They go on like this, Papa.
 
Yes! High Five! We did it, good job. It looks just like the picture on the box.
Thanks, Papa. I love you. Let's go show Dad.
 
One six year old
Plus one sixty year old
Equals two six year olds

This poem first appeared in Shortbread Short Stories (October 2013).
Used here with the author's permission.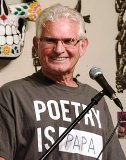 Carl "Papa" Palmer lives in University Place, Washington now, but grew up on Old Mill Road in Ridgeway, Virginia. Retired from the military and the Federal Aviation Administration (FAA), he enjoys being a Franciscan Hospice volunteer and being "Papa" to his grand descendants. Carl is the author of six chapbooks and his work has been published in more than 200 journals around the world. His motto is "Long Weekends Forever!"
barbsteff:
Smile!
Posted 12/28/2019 03:04 PM
Surprise Reading Teacher:
Did you record this? Ha ha! You nailed it! And I love the last line.
Posted 12/27/2019 02:44 PM
GHemmannpoet:
What a nice poem, Carl! Especially like the ending.
Posted 12/26/2019 11:28 PM
Mark the Hack :
A fun Christmas story. Very touching and true to life. Thanks for sharing it.
Posted 12/26/2019 06:37 PM
agplayer2000:
Reminds me of many Christmas mornings. A few words can say a million memories is a rare gift. The joy of a child giving an adult directions. These words makes me want those times again. Just Great, THANKS.
Posted 12/26/2019 03:30 PM
Lori Levy:
Exactly!
Posted 12/26/2019 01:26 PM
KevinArnold:
Fun. I first read ?robot hover capsule? as ?robot lover capsule,? at which I still giggle.
Posted 12/26/2019 11:38 AM
Sarah Russell:
Just delightful! Especially after scouring the GLOBE for an Lego x-wing fighter for my grandson this Christmas. It arrived on Christmas Eve. Whew! I was right there with you two sorting through for just the right part.
Posted 12/26/2019 11:34 AM
cork:
Grandpa was a surprise.
Posted 12/26/2019 09:05 AM
jlandwehr:
Love this. It took me to the living room floor with my own kids and my eventual grandkids.
Posted 12/26/2019 08:49 AM