How crass, your waiting for just enough snow
to whiten and weight the spruce bough
for a gaudy swoop-in, your scarlet arrival.
 
And how many winter mornings like this
have you posed, notice me, notice me,
letting that crown unscroll
for our beaten faces in the kitchen window?
 
You're such a shameless, clichéd scene grabber.
 
Just sit there. Be gorgeous, stunning even.
See if we care.


From Not Quite Eden (Fireweed Press, 2010).
Used here with permission.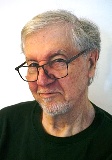 Richard Swanson is from Madison, Wisconsin, where he is part of that city's thriving poetry scene. A retired English teacher, Richard is the author of two chapbooks and three full-length poetry collections, the most recent being Slow and Other Poems.
barbsteff:
Fummy and wonderful! Love the opening: "How crass" Barb Germiat
Posted 02/25/2020 10:58 AM
Lori Levy:
Great! Love the contrast of the red against the white snow.
Posted 02/22/2020 07:25 PM
michael escoubas:
Different approach by Richard! Quite good. I so appreciate the Redbirds' year-round loyalty and the blessing of their stunning beauty--the way colors green, white and red contrast, offering a visual feast.
Posted 02/22/2020 12:14 PM
finney@charter.net:
Love the sass in this poem. Thanks!
Posted 02/22/2020 08:20 AM