A bobcat's paw
Pressed this river sand
An hour ago.
 
A bluejay's wing
Winks at me
From cottonwoods ahead.
 
Early sun's touch
Turns cloud tops
To spun gold.
 
No dread,
No virus
Out here.


© by Robert Walton.
Used with the author's permission.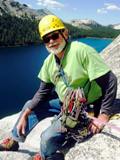 Robert Walton is a retired middle school teacher and a lifelong rock climber with many ascents in the Sierras and Pinnacles National Park. His publishing credits include works of science fiction, fantasy, and poetry. Robert's historical novel, Dawn Drums, won the Tony Hillerman Prize for best fiction in the 2014 New Mexico Book Awards. Most recently, his short story, "Do you feel lucky, Punk?" received a prize in the 2018 Bartleby Snopes Dialogue Only contest. Learn more about Robert at http://chaosgatebook.wordpress.com/.
Anastasia:
Nature is soothing, if we allow ourselves to stop and appreciate all the wonders.
Posted 03/21/2020 01:24 AM
Lori Levy:
Beautiful images.
Posted 03/16/2020 06:55 PM
Robert Walton:
Barbsteff - I jotted the images down after my morning walk last Thursday morning. I put the poem together later that same day.
Posted 03/16/2020 12:55 PM
barbsteff:
I wonder when he wrote this?
Posted 03/16/2020 12:43 PM
KevinArnold:
Yes, a refreshing view, not overstated.
Posted 03/16/2020 09:48 AM
michael escoubas:
Truly on target, Bob. Simply stated yet powerful in its truth. Thank you, just what I needed today.
Posted 03/16/2020 09:01 AM
cork:
Timely!
Posted 03/16/2020 08:59 AM