Oh you are a beautiful flash of purpose
as you race toward the geese,
scattering them, every one. The wide
arc of their furious flapping, their loud
squawking, their berating, their clamorous

lifting is like great bells of hammered brass
ringing out in the Church of Brave Terriers
on The Day of Infinite Bones. And you,
my brown and white bullet burning with joy,
you are magnificent as the ringer of bells.

Please, allow me to be your student,
let me learn to be as purely alive as you.

First appeared in Dog Blessings: Poems, Prose, and Prayers Celebrating Our Relationship with Dogs, (New World Library, 2008).
© by Ginny Lowe Connors. Used here with the author's permission.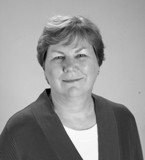 Ginny Lowe Connors is an English teacher in West Hartford, Connecticut, where she serves as that city's Poet Laureate. Author of two published poetry collections and editor of several anthologies, Ginny also runs a small poetry press, Grayson Books. Her accolades include the Sunken Garden Poetry Prize, the Atlanta Review International Poetry Competition, and numerous prizes sponsored by the National Federation of State Poetry Societies–including their coveted Founders Award. Learn more about Ginny at www.ginnyloweconnors.com.  
Wilda Morris:
Wonderful poem.
Posted 04/12/2015 10:09 PM
karenpaulholmes:
yes, you captured it, and I actually knew someone whose Jack Russell Terrier's name was Bullet.
Posted 04/12/2015 08:51 PM
transitions:
Purely alive, yes, dogs are God's great gift to us. Beautiful poem and photo.
Posted 04/12/2015 03:54 PM
dianne:
Just beautiful. It brought tears to my eyes.
Posted 04/12/2015 12:17 PM
Cindy:
I have had quite a few dogs through the years, and every one has been the best dog ever! They are all so perfect and yet all so different from each other.
Posted 04/12/2015 09:02 AM
paradea:
Love this!!
Posted 04/12/2015 08:31 AM
Larry Schug:
Woof!
Posted 04/12/2015 07:33 AM
Jules4Nicky:
Web MD has an article on how you can be healthier by being more like your dog. Live entirely in the moment is one of them. Church of the Brave Terrier! Great poem!
Posted 04/12/2015 06:58 AM
Katrina:
Howling with concurrence.
Posted 04/12/2015 04:44 AM
KevinArnold:
Great first line, keeps going.
Posted 04/12/2015 12:05 AM