If my mother is a rose,
then I am a poppy.
She, dignified, resilient,
dependable.
I, carefree, capricious,
more likely to flourish
in an open field
than a tended bed.
We are both redó
though she more vibrant than Ió
my bright petals no match for
her vermilion charm that oozes,
even now, through age and infirmity
like blood through gauze.
Still, her thorns have
pricked more than a few.
My stems are tender;
I bruise and wilt
when the world comes
shoving past.

I love
my motherís smooth, olive skin,
her waves of silver hair,
her green thumb that might be
Godís own.
She loathes
my manic schedule,
my paper scraps and untidy piles,
my as-often-as-possible bare feetó
trademark traits for years.

We are neither opposites
nor two of a kind,
not best friends, mortal enemies,
inseparable, or estranged.
We are women who share
a gene pool,
a fondness for flowers,
a propensity for pouting,
who have lived through the loss of
a good man,
the abuse of
a bad one,
polar hormonal onslaughts,
the best of times,
the worst of times,
who have now reversed roles,
slapped death in the face
(several times),
and emerged
friends.


From Dancing with My Daughter: Poems of Love, Wisdom & Dreams (Loyola Press)
Used here with the authorís permission.
†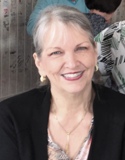 Jayne Jaudon Ferrer is the author of four books of poetry and a nonfiction book about games. She speaks frequently at churches, schools, and writing-related events and her work has appeared in hundreds of publications. Jayne is the founder and editor of YourDailyPoem.com and enjoys reading, music, old movies, gardening, hiking, and good conversation. A native Floridian, Jayne has lived in Greenville, South Carolina, for 25 years. Learn more about her at www.jaynejaudonferrer.com.
Lori Levy:
Very honest, beautiful poem!
Posted 04/29/2020 11:34 PM
jayne:
Many thanks for your perspectives and comments!
Posted 04/29/2020 08:44 PM
barbsteff:
Thanks for insight intoyou and your Mom. Well constructed.
Posted 04/29/2020 04:29 PM
Anastasia:
This is beautiful! Your and your mother both sound amazing!
Posted 04/29/2020 01:54 PM
Surprise Reading Teacher:
Beautiful. I hope I am loved in the same way by my daughters(in-law).
Posted 04/29/2020 01:03 PM
peninsulapoet:
Beautiful poem, Jane
Posted 04/29/2020 10:37 AM
Jean Colonomos-1:
So loving, so human, a gift to emerge as friends.
Posted 04/29/2020 10:24 AM
KevinArnold:
The power of the vernacular.
Posted 04/29/2020 09:55 AM
peggy.turnbull:
I love the beauty of this poem and find the last stanza particularly identifiable. I speak as someone who is also going through this kind of role reversal with a parent.
Posted 04/29/2020 09:30 AM
cork:
Amapola!
Posted 04/29/2020 09:21 AM
michael escoubas:
Wonderfully transparent and uplifting! Poetry that serves as a "scrapbook" of memories. Thank you, Jayne.
Posted 04/29/2020 09:09 AM
Ronaccount:
I love the honest perceptions and artful presentation of them. ?Her thumb might be God?s own? is a marvelous tribute.
Posted 04/29/2020 09:09 AM
paradea:
A fine poem of truth about a mother/daughter relationship, Jane.
Posted 04/29/2020 09:06 AM
jeeger:
Oh, I love this!
Posted 04/29/2020 08:26 AM
Larry Schug:
Compare and contrast, yet unveiling a similarity found only in blood and common experience.
Posted 04/29/2020 08:01 AM
Jccjccac@aol.com:
Such a great description of a mother daughter relationship. I enjoyed it!
Posted 04/29/2020 07:57 AM
Nabby Dog:
This is a beautiful poem of tribute and gratitude for an enriching relationship. As with all genuine love poems, it brings us to a place of blessing. This poem was a wonderful way to start my day!
Posted 04/29/2020 07:52 AM
mail@schoolbusmart.com:
Great poetic story of two women, and a sense of closeness, respect and identity. S3, L1-2 Neither opposites nor two of a kind - we are who we are, Quiet pride and acceptance. Very nice. Randy
Posted 04/29/2020 07:46 AM
Reborn:
What a beautiful tribute!
Posted 04/29/2020 07:36 AM
Randy Cadenhead:
Beautifully rich metaphor and such a warm pivot to bring it to a close. Thank you!
Posted 04/29/2020 07:28 AM
Charly:
Lovely, Jayne. Perfect poem for today's!
Posted 04/29/2020 06:54 AM
paula:
This is lovely. Mom would be proud.
Posted 04/29/2020 06:53 AM